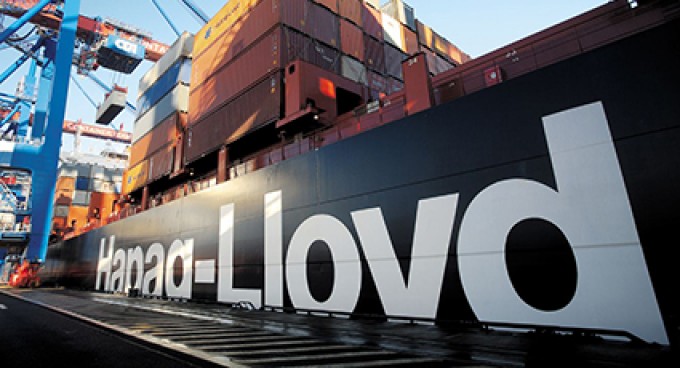 THE Alliance members Hapag-Lloyd, ONE, Yang Ming and HMM have finalised their April network plans, which feature vessel upgrades on Asia to North Europe, Mediterranean and US east coast services.
Lead line Hapag-Lloyd said one of the key highlights would be the deployment of its 23,500 teu newbuild ULCVs on the Asia-North Europe tradelane to replace smaller ships.
In April, the carrier is due to start receiving the six LNG-fuelled ULCVs from South Korean shipyard Daewoo Shipbuilding & Marine Engineering.
Announcing the order, CEO Rolf Habben Jansen said  the investment would see the carrier "reduce slot costs and improve our competitiveness" on the Asia-North Europe tradelane.
Hapag-Lloyd added that another highlight of next year's network enhancements was the addition of 14,000-15,000 teu ships on Asia-Mediterranean services and on the transpacific between Asia and the US east coast.
Supply chain intelligence platform eeSea analyst Patrick Fach-Pedersen said the only significant adjustment to THEA's network was the dropping of its PS8 Asia to Pacific north coast loop, which it introduced in 2018, with other adjustments limited to calls added or removed on existing services.
Meanwhile, earlier this month, the rival Ocean Alliance partners announced their annual network adjustments, bringing forward commencement from 1 April to 1 January, which they said was to coincide with the introduction of the new IMO 2023 ship efficiency regulations.
Similarly to THEA, the Ocean did not make any major network adjustments, other than a reduction from 14 to 12 in the number of transpacific loops, with other changes mainly restricted to rotation changes.
However, like THEA, the phasing-in of 24,000 teu newbuilds next year to replace smaller tonnage – in this case ordered by OOCL –  will boost the alliance's capacity offering.
Between the three alliances, the current orderbook stands at some 5m teu, stemmed for delivery within the next two to three years.
Meanwhile, the 2M alliance of MSC and Maersk has yet to announce any network changes for 2023, although Maersk said that, from the end of January, it would be implementing "service speed optimisation" on its transpacific Asia to US east coast loops.
"We are going to add extra vessels to US east coast services to optimise ocean crossing speed," explained a Maersk advisory.
"These changes in some instances will increase cargo transit times slightly by up to two days, but more importantly it will improve the reliability of our services, reducing schedule gaps and slidings,"