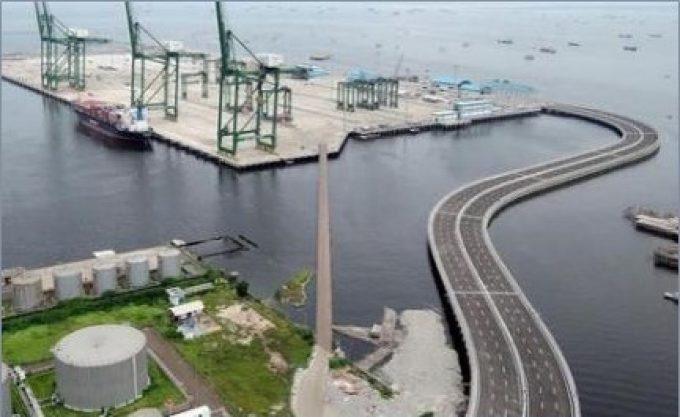 Indonesia is poised to finally take a premier position on global trade flows following the opening of the New Priok container terminal in Jakarta.
David Wignall, senior VP at Indonesia Ports Corporation, explained to delegates at the TOC Asia Container Supply Chain event in Singapore this week that, previously, the largest vessels the port could handle was 3,500-4,000 teu.
He said the new terminal in the Indonesian capital's Tanjung Priok port complex could handle vessels up to 18,000 teu, "and this produces a major transformation of logistics in Indonesia and, potentially, South-east Asia".
Mr Wignall added: "As well as improving the port and cargo handling facilities, the project has turned Indonesian Port Company into a genuine port developer."
The first phase of New Priok has capacity for 1.5m teu, with a further 7m teu to be added in future phases – this is in addition to Tanjung Priok's existing 4m teu capacity.
"That means Tanjung Pirok will become a key hub for the region, and I think it could potentially change the face of shipping in South-east Asia," said Mr Wignall.
"What has been holding Indonesia back is the lack of capacity to handle the biggest, or even big, ships.
"But the ability to handle ULCVs starts now."
As a result of this new handling capacity, the port has won its first direct transpacific call: the Ocean Alliance's Pacific South-West service that also calls at Singapore, Cai Mep, Hong Kong, Oakland and Los Angeles.
As The Loadstar reported yesterday, transhipment patterns in South-east Asia could be changing, and Mr Wignall suggested that with the planned expansion, more carriers and larger ships will be attracted by the large potential origin and destination volumes.
"The large transhipment volumes of the Malacca Straits are something of an illusion. The origin and destination cargo in Tanjung Priok is around 6m teu and, as we go eastwards across this vast country, it is easy to add another 4-5m teu of cargo.
"There are around 20 million people on the eastern side of the Malacca Straits, compared with 50m in Sumatra and 120m in Java. As we go further east, the number of people falls but raw resources, such as minerals, increase.
"The future is south of Singapore," he added.
Mr Wignall also explained that New Pirok would act as a gateway hub for new terminals Indonesia Port Company is planning to build in the east of the country.
"Indonesian domestic shipping is costly and complicated, which is why President Jokowi is so keen to develop a maritime strategy.
"Now that we have developed a major hub that acts as a gateway to the world, we need to develop regional ports to support it."