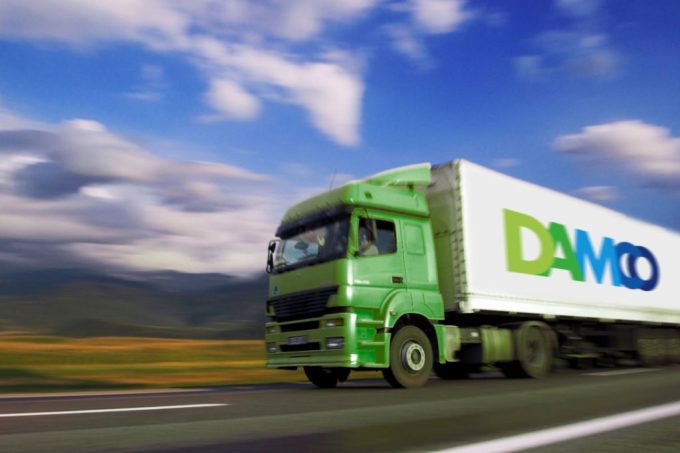 The app's Yard Management feature automates the monitoring of containers at the infant nutritionist's Ireland facility saving up to 4.5 hours a day in manual checks
The Hague, the Netherlands, Thursday 9th July 2020 : DAMCO has developed a new app for Wyeth Nutrition, a division of Nestlé Nutrition, digitising the shipment processing of its infant formula consignments globally, saving time and costs.
The tailored app allows truck drivers to record and report on all of Wyeth's local container transport movements, as well as to generate a quality control document, which can be produced for audit purposes.
Office-based stakeholders from DAMCO and Wyeth Nutrition, as well as transport planners at the trucking company, can access the data from a web-based desk top version in real time.
"After checking to ensure the container is food-grade quality, the driver can tick a box on the app to generate a document to show that prerequisite checks have been completed," said Anthony Akerman, Managing Director, UK and Ireland, DAMCO UK.
"The app also allows us to track the length of time a container is on or off quay so that we can manage costs."
The app's Yard Management feature gives an up-to-date overview of the number, status, and shipping line for containers available at Wyeth's Askeaton, Ireland facility at any time of day, avoiding downtime and hold ups caused by containers being in the wrong location.
The app automates a number of manual reports and checks, which could previously take up to 4.5 hours a day.
"We developed the app working closely with Wyeth to make sure that we understood their specific requirements," said Akerman.
"We also made sure to get support from the hauliers as their feedback is essential because they are the supplier inputting the data.
"By moving what was a manual process online, we have improved efficiency and provided a transparent real-time overview of their supply chain, enabling them to monitor each individual shipment of baby formula from manufacturing facility to destination."
A range of dashboards within the app's interface allow the customer to see products and monitor freshness remotely, as well as check shipment milestones as they are reached.
"Within Nestlé there is a requirement to provide the best possible logistics solution for optimal service and quality," said Patrick O'Connell, Supply Chain Lead at Wyeth Nutrition Ireland.
"New technologies are critical in this drive to deliver sustainable, reliable and high quality services that ensure the safe arrival of our products.
"The DAMCO app has proven to be very effective in facilitating an instant update on the location and status of containers within the Wyeth local Supply Chain.
"This information supports efficient decision making that increases our agility along with lowering container dwell time and increasing visibility. This helps reduce cost while providing added security.
"External collaborations like these enable us to achieve a competitive advantage while reducing cost and increasing quality and service."
The DAMCO app, which was developed in conjunction with IBM, is scalable so that any number of shipping lines, hauliers, and collection and delivery points can be added.
DAMCO will be offering tailored versions of the app to customers from next month.