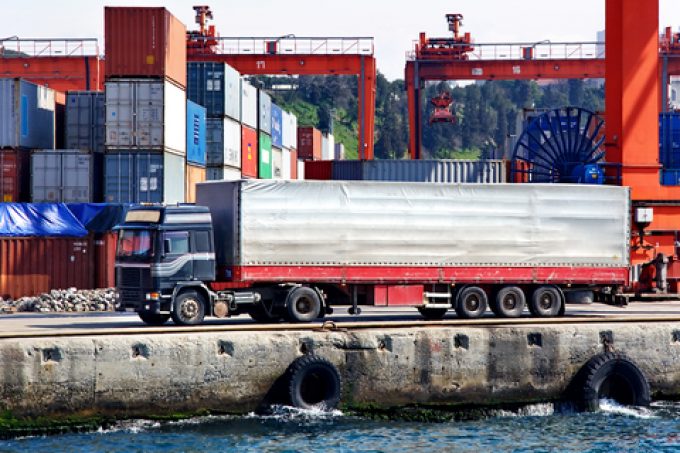 The IMO's new CO2 reduction measures, including ETS (emissions trading system) and Carbon Intensity Indicator (CII), will likely put more pressure on the feeder industry and drive more-polluting road transport, say experts.
A fetishism for scale by shipowners has led to chronic underinvestment in smaller tonnage, endangering feeder trades, with the upshot that not only are the trades limited in number, but also in carbon-efficiency, one source within the industry explained to The Loadstar.
"We are very concerned about the aging fleet and future lack of available tonnage. Over the years, there has been a misconception in the feeder/shortsea market that bigger is better – not necessarily true.
"Aside from… port and terminal size limitations or, for example, the Kiel Canal draught, length and height restrictions, there is the operational time in ports to be taken into account. On larger vessels, the move-count increases and, consequently, so does the port stay… [therefore] vessels fall out of schedule."
According to Alphaliner, the container fleet in the 999 teu or less range averages 17.4 years old. However, CII and EEXI regulations threaten to tip the scale even more by seeming to favour the operating profile of large mainhaul ships. Going generally faster than larger box ships and spending proportionately more time at berth, the new regulations will punish feeder vessels.
Many experts, including Xeneta chief analyst Peter Sand, anticipate this will trigger more scrapping in the smaller-size ranges and incentivise a switch to more-polluting road transport.
And he anticipates "a situation in which carriers move their feeder ships onto longer trades a few times a year to improve their score, adjusting their offerings and, potentially, stopping a certain number of port calls, especially in the ports where carriers know waiting times are consistently long".
He told The Loadstar this "would lead to certain ports becoming less connected and potentially moving some shippers into inland transport from hubs, rather than feeders, which is much less efficient than container shipping".
CII rules could also squeeze out reefer vessels. But the concerns of feeder operators do not end there.
In Europe, another piece of well-intentioned environmental legislation, the EU-ETS scheme, will kick-in for shipping several years before trucking becomes subject to it. This, said Danish Shipping in December, would "challenge the shortsea shipping sector's competitiveness" by placing a price increase on maritime transport, which "carries the risk of leading customers to choose transport via road instead of sea".
Though the feeder fleet could be pivotal in shifting cargo movements away from high-polluting modes, underinvestment compounded by new regulation skewing the market against them, seems to be making the opposite outcome more likely. Our source's own company has responded by ordering 16 new feeders, to be delivered from end 2023, "…future-proof, the engines are dual-fuel, ready to burn green methanol and super-efficient".
It joins a handful of companies trying to make new low- or even zero-carbon additions to the feeder fleet. Due to the way CII is designed, it will place them in the same 'A' category as a mainhaul vessel burning fossil fuels with improved efficiency. It will also be very expensive.
"While the lines would love to sell these green concepts to their customers (mainly large BCOs rather than forwarders) they will not necessarily be compensated by the BCO.
"They will say 'I want it green, but I don't want to pay any more than I am paying now'. The markets will not regulate themselves, particularly in times like today, the bottom dollar will count."