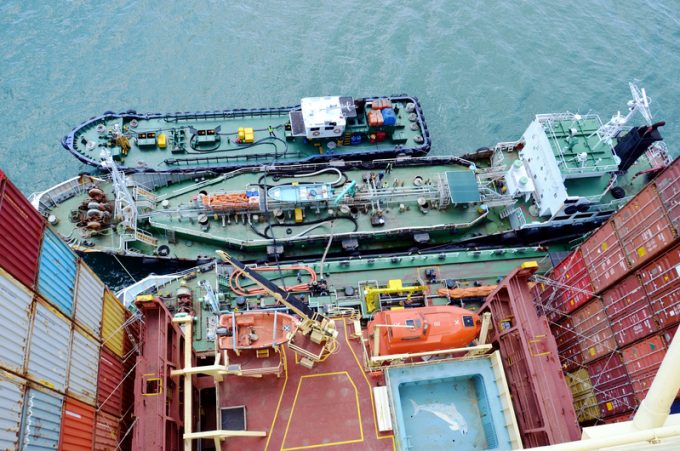 As oil prices head north again, ocean carriers are preparing to ramp up low-sulphur fuel surcharges to add to the misery of shippers struggling with sky-high freight rates, surcharges and premium fees.
Since early September, the price of Brent crude has increased by 41%, to $55 a barrel, with an 8% spike alone last week driven by Saudi Arabia's pledge to cut output.
During the same period, heavy fuel oil (HFO), consumed by ships with exhaust gas scrubber systems, has increased by some 36%, to around $327 per ton – however, IMO-compliant low-sulphur fuel oil (LSFO) has more closely tracked the rise in oil prices and is up by 43%, to reach $403 per ton.
This means the spread per ton between the two fuels has widened from $41 to $76 since September, adding significant extra cost to the voyage of vessels bunkering with LSFO.
Moreover, even ships with scrubbers installed are increasingly being obliged to switch tanks to the more expensive fuel when entering ports that prohibit the use of the technology in their waters.
"All in all, this points to shippers needing to prepare for increases in bunker surcharge levels in the coming months," said Lars Jensen of SeaIntelligence.
Indeed, a straw poll by The Loadstar today suggests shippers are being warned of imminent increases in LSFO surcharges, possibly as early as 1 February, while some will be faced with automatic bunker surcharge increases due to clauses in their contracts.
One UK forwarder said he found the prospect of increased bunker surcharges "unbelievable", adding: "We are already being screwed all round by the carriers on rates that are at least four times higher than a year ago, plus a whole basket of surcharges and premium fees.
"So they [carriers] should be able to sustain fuel price increases, particularly as they were slow to cancel the surcharges when oil prices crashed at the start of the pandemic."
George Griffiths, global container freight market editor at S&P Global (Platts), told The Loadstar today bunker clauses would leave shippers "fighting on two fronts" – spiralling freight rates and increased bunker surcharges.
"The recent uptick in bunker prices has started to leave some shippers wary, especially as annual contract season starts to roll around, with eyes focusing once more on the bunker adjustment factor clauses in contracts, alongside additional low sulphur surcharges. These concerns appear to have largely been displaced from the start of 2020, when the pressing nature of these surcharges was offset by the tumbling oil price on the back of the coronavirus pandemic."
Platts' bunker charge Asia to north continent component – which tracks the price per 40ft for bunker fuel along the tradelane – rose to $265.82 per feu yesterday, the highest level since 5 March last year, when it was $266.50, against a low in April of $111.14.
Meanwhile, carriers such as MSC and Evergreen, that have the highest percentage of their fleets equipped with scrubbers, are expected to see that investment returned earlier due to the widening of the fuel price differential.