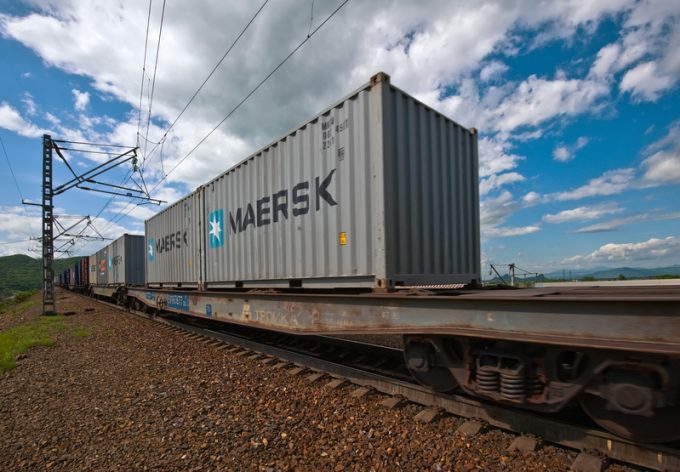 Maersk is to double the frequency of its AE19 rail-sea service between South Korea and Northern Europe, as shippers and forwarders on the trade continue to struggle to secure ocean and air freight capacity.
The service, operated in cooperation with South Korean freight forwarder Pantos Logistics, will move from monthly to fortnightly and will now include a backhaul leg – so far it has only run westbound.
"Frequent cancellations and congestion in ports and airports around the world due to Covid-19 have made the usual ocean and air services less attractive for customers," said Jason Park, head of Maersk Korea.
"The AE19's volumes have increased by approximately 30% on pre-Covid-19, compensating for the reduced demand for our other services," he added.
The AE19 service comprises a shortsea leg from Busan to Vostochny and a rail leg from Vostochny to St Petersburg, operated by Russian Railways, with a transit time of 16 days. Total transit times from South Korea and Japan to Northern Europe are 23-32 days.
Maersk added that a key growth factor was that after "close cooperation with Russian Railways and Modul LLC as rail transport providers of AE19", the service can now carry automotive batteries.
Pantos rail transport business division director Ha Hyeong Lee said: "We expect this to become an important milestone in bringing Eurasian international rail service to the next level – by combining rail transport with Maersk's capabilities as a global shipping company."
Maersk said it planned to target other verticals "dealing with high-value and/or lead time-sensitive cargo, such as automotive, electric and facilities".
Last September, Pantos signed an MoU with Russian rail operator TransContainer to cooperate in intermodal  business from Korea/China to Uzbekistan, Kazakhstan, Russia and Europe. Pantos said it was particularly aimed at "developing logistics services for the Uzbekistan automobile industry".