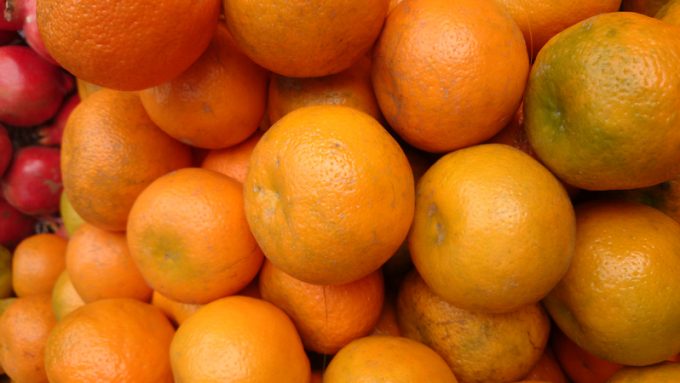 The huge potential of India's perishables export market has been highlighted by a new study showing a 76% reduction in food wastage due to using pre-cooling and refrigerated transport equipment.
Funded by refrigeration specialist Carrier Transicold and overseen by India's National Centre for Cold Chain Development (NCCD), the study examined how cold chain technology can help increase the quality, reach and profitability of kinnow – a citrus fruit common to the Punjab region of India and Pakistan.
The study measured the effect of cold storage and refrigerated transport from Abohar, in northern India, to Bangalore in the south – a 2,500km journey that takes four-to-five days by truck.
The results were impressive. In addition to the 76% food wastage reduction, carbon dioxide equivalent emissions (CO2E) were cut by 16% and the kinnow aggregator's profit margin jumped 20% from out-of-season sales and access to distant markets.
"The refrigerated trucks help us to supply kinnow not only to Bangalore, but also to export to Russia, Dubai and Bangladesh," said Surinder Charaya, owner of Balaji Kinnows.
An important aspect of the study was to highlight the growth potential of India's agricultural exports, given the currently low level of cold chain technology use. According to Carrier, India is the world's second-largest producer of fruits and vegetables but accounts for just 1.5% of global produce exports. This is due to losses of 20-50% of production.
"The small percentage of kinnow exported is often transported in open trucks, with cumulative losses as high as 32%," said Pankaj Mehta, managing director of Carrier Transicold India. "Many markets in India and abroad have never enjoyed a flavourful, nutritious kinnow.
"The challenge is to convince all the stakeholders that the cold chain is a smart investment with a relatively short payback period," he added.
The study demonstrates that the payback for pre-cooling equipment is around two years, while it takes four years to pay back refrigerated trucks. Balaji has now transitioned from leasing to purchasing refrigerated trucks for its kinnow transport.
For NCCD, the study served to "lift the veil" on some common misconceptions about the costs and complexities of implementing effective cold chains.
"This pilot study is not a simplistic paper exercise but was designed and executed as a frontline demonstration of the costs and benefits from deploying a cold-chain bridge," said NCCD chief executive Pawanexh Kohli.
Mr Kohli told The Coolstar that the study also demonstrated how, with cold chain connectivity, even a low-cost fresh produce item could fetch superior value and open new markets.
"Such pilots give entrepreneurs reason to look anew at cold chains and automatically spur relevant investments in right-type and right-sized infrastructure. Without recourse to such understanding, a cold chain is largely seen as a cold warehouse to tide over temporal demand-supply imbalances," he added.
In addition to India's 283 million tonne horticultural industry, Mr Kohli said cold chain investments could make a big impact on the export volumes of milk, meats, fish and poultry.
"However, to complete cold chain connectivity for both imports and exports, India also needs to develop food gateways to fast-track access onto and off its shores," Mr Kohli said. "There is growing focus to develop [India] as the food basket of the world, and that will need specialised ports dedicated as trade gateways for perishable foods.
"It also means developing a larger share of multimodal reefer container movement at the domestic level, something that is missing at the moment," he added.