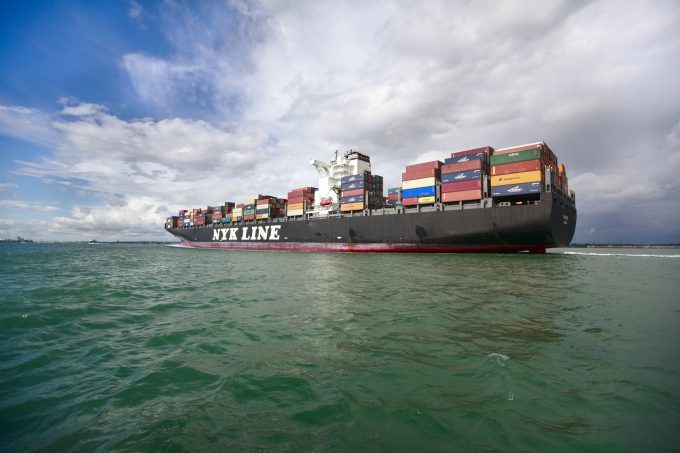 The liner divisions of Japanese shipping groups K Line, MOL and NYK all posted positive contributions in the second quarter, ahead of their merger into the Ocean Network Express (ONE) next April.
Revenue for the container sector of K Line between April and September, which includes logistics and terminals, came in at ¥157.3bn (US$1.4bn) resulting in ordinary income of ¥2.9bn.
In the same quarter of the previous year, it reported a loss of ¥8.7bn on turnover of ¥124.7bn.
Year-on-year, K Line grew volumes by some 14% on its Asia-Europe trade in Q2 and by around 13% on intra-Asia routes. However, on Asia-US, there was a less impressive increase of 2%.
The company said: "Freight rates are recovering from the historic low recorded in the previous fiscal year," but added that rates remained "top-heavy" as a result of changes in the industry from M&A activity and the delivery of new ultra-large container vessels (ULCVs).
As a consequence, "market conditions have become harsher".
MOL's container business also improved, with Alphaliner noting that its liner division had recorded its first profitable quarter since 2011 – a string of 25 consecutive quarterly losses.
Turnover was ¥193.5bn in the quarter, compared with ¥145bn the previous year, and this resulted in operating income of ¥2.1bn, versus a loss of ¥9.7bn previously.
MOL said it had recorded its "highest-ever" liftings on Asia-US tradelanes and that, on Asia-Europe, cargo volumes "proceeded steadily".
The carrier reported other positive trends during the quarter, including an increase in backhaul cargo from Europe to Asia and "contributions generated from annual contract freight rates", which it said "had been rising upon renewals since the start of the year".
NYK, Japan's largest container line and the senior partner in the ONE joint-venture with a 38% stake, was the most profitable of the trio in Q2, recording income of ¥7.7bn, earned from revenue of ¥179bn. This compares with a loss of ¥6.5bn on a turnover of ¥139.2bn previously.
The carrier described business as "brisk" on transpacific routes and said there was "robust demand" for European services. However it added that this was not enough to mitigate the capacity increase caused by the commissioning of extra vessels.
Looking ahead, MOL said it expected "stronger demand than usual" after the slack winter season, with a "rush in demand" ahead of the Chinese new year holiday, later than normal next year, starting 16 February.
Due to the formation of ONE, K Line, MOL and NYK have all made provision in their accounts for one-off costs associated with the start-up of the joint-venture.
The Loadstar understands that key staff will be told before Christmas whether they have a role in the new organisation.