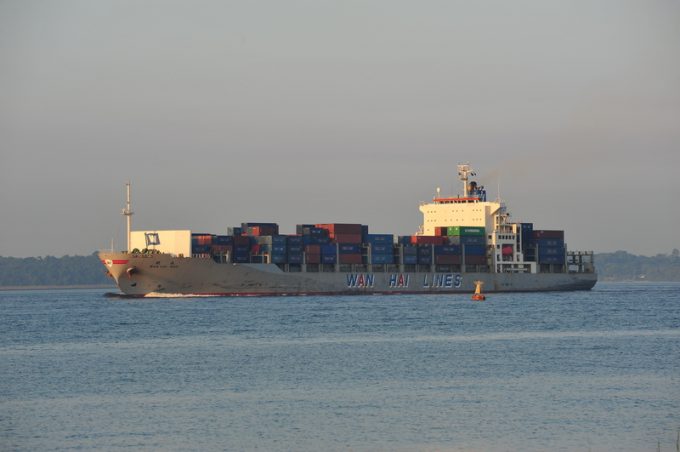 Growing volumes between China and South-east Asia propelled first-quarter intra-Asia container trade figures.
However, shipping lines are struggling to capitalise as freight rates remain low despite modest gains.
According to Drewry, provisional Q1 intra-Asia data from Container Trade Statistics shows a "prodigious" 23.5% year-on-year jump to 10.8m teu.
"All the more remarkable, said the analyst, "as the same data source tells us that this follows zero growth in [full-year] 2016 when intra-Asia box volumes closed on 39.2m teu."
Trade between China and South-east Asia was the busiest and fastest growing lane, growing a "staggering" 36%, to 3.4m teu, Drewry notes, adding that if the data is accurate, then trade between the two "went into overdrive at the start of this year".
The increase in volumes has yet to translate into significant increases in freight rates, however. According to Drewry's intra-Asia Freight Rate index, spot rates are starting to show only a faint increase after having been stuck at around $750 per 40ft container for the past 18 months.
Naresh Potty, chief commercial officer at MCC, told The Loadstar rates were improving, albeit unevenly.
"In line with the volume growth and, particularly, pressure on equipment in the first quarter, freight rates have started moving upwards. Intra-Asia, however, is a complex trade with many port pairs and corridors, and it's fair to say that the rates have not moved in the same manner across the entire trade.
"Rates out of Thailand, for instance, have seen more traction compared with Singapore, but we have seen positive traction in most corridors," said Mr Potty.
"We have seen an upswing in the market fundamentals and trade growth so far this year. The improvement in the long-haul trades in particular benefits the intra-Asia trade since a major chunk of the volumes on intra-Asia are raw materials and any upswing in manufactured products moving to the long-haul trades benefits the intra-Asia trade as well."
Small rate improvements were not enough to prevent Taiwanese specialist Wan Hai from slumping to a first-quarter loss of TWD200.31m ($6.64m) – just its third quarterly operating loss in five years.
Thai-listed Regional Container Lines (RCL) was also dragged further into the red in Q1, reporting a net loss of THB261m ($7.59m), following a loss of THB243m ($7.06m) for the same period last year.
RCL said this was despite liftings increasing by 6% to 445,166 teu, while its average freight rate per teu in the first quarter of 2017 declined 7.2% when compared with the same period in 2016.
Drewry said the poor results were likely a result of carriers following demand and deploying additional capacity on intra-Asia networks, with at least eight new services introduced so far in 2017.
It added: "The weakness in intra-Asia spot rates and disappointing carrier results does not necessarily debunk the demand high-growth story, as per the CTS data. They could merely reflect that as volumes have risen so too have the number and size of containerships being deployed within the trade, leaving the supply-demand balance as it was."
However, MCC's Mr Potty said the carrier had not made any major network changes.
"Given the complexity of the intra-Asia trade, we of course reshuffle our services to improve the product coverage to our customers, but we have not added substantial capacity to the trade, nor do we intend to do so. The rates and yields in most corridors in the intra-Asia trade do not justify new services."