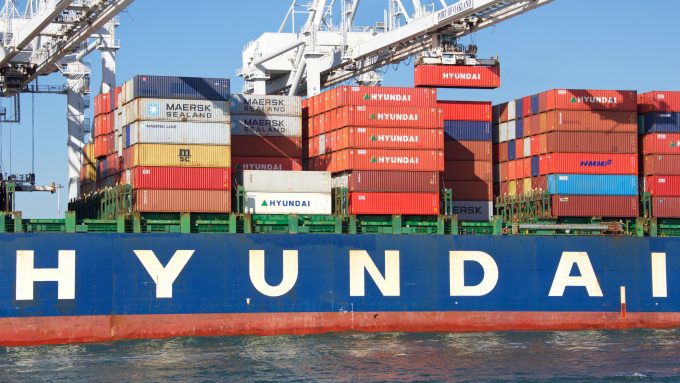 South Korean ocean carrier Hyundai Merchant Marine (HMM) has prepared an ambitious blueprint for expansion, aiming to double its current capacity over the next four years.
The bullish message to staff from HMM's chief executive, CK Yoo, last week reinforced the South Korean government's determination to do "whatever it takes" to support its flag-carrier after the national disgrace of Hanjin Shipping's demise in 2016.
Speaking to employees at its Seoul HQ last week, Mr Yoo said HMM's target was to achieve a fleet capacity of one million teu and an annual revenue of $10bn from its liner operations by 2022.
He added: "HMM will do its utmost to improve productivity by connecting blockchain and IT technology to our services to increase customer satisfaction."
The internal presentation was made ahead of the launch of a fresh global PR initiative by HMM designed to "regain customer trust" in South Korean shipping after the bankruptcy of the world's seventh-biggest carrier. Moreover, with liner losses accelerating, shippers are becoming increasingly concerned at the financial health of carriers.
HMM's current operating fleet has capacity of 410,000 teu after its enforced restructuring, but it has an orderbook for 396,000 teu in large ships.
A fleet of 1m teu would lift HMM from 10th in the container line rankings to 8th, above Yang Ming's 632,000 teu, but behind Evergreen's 1.2m teu.
Mr Yoo's presentation followed the news this month that state-owned Korea Ocean Business Corporation (KOBC) had signed off on $5.4bn of new funding for HMM.
In September HMM confirmed it had signed contracts with South Korean shipyards to build 12 23,000 teu ships for delivery in the second quarter of 2020, which it said would be followed by eight 15,000 teu vessels a year later.
The new ULCVs will coincide with the expiry of HMM's three-year slot charter arrangement with the 2M alliance on the Asia-North Europe trade, when it is widely expected that the carrier will make a fresh application to join THE Alliance.
Given the effectively South Korean government-subsidised status of HMM, and not least the receipt of its new ULCV tonnage, it is assumed that HMM's application will be considered in a more favourable light than previously, when its parlous financial status brought a rejection.
The funding by the KOBC provoked a storm of protest from European shipping associations who criticised the state aid and accused the South Koreans of "unfair competitive distortions".
HMM holds the status of the worst-performing carrier financially, posting a net loss of $1.1bn in 2017 and recording a deficit of $371m at the halfway point of the year.