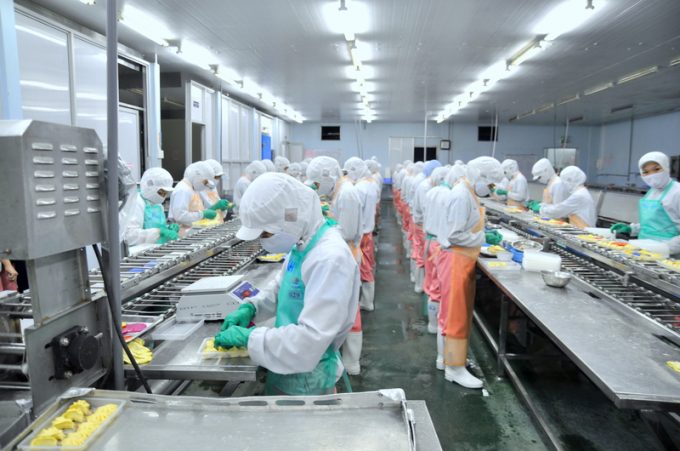 Production in South Vietnam is struggling under the weight of a prolonged lockdown, with manufactures and logistics firms warning of mounting financial costs, labour shortages and supply chain disruption.
Yesterday, Ho Chi Minh City introduced the strictest Covid restrictions to date: residents must not leave their homes for at least the next two weeks, even for food.
Troops have been deployed to enforce the "stay home" order and to deliver food to districts where the outbreak is most severe among the city's 13 million population.
Factories can continue operating, but only under strict "closed loop" conditions, whereby workers sleep onsite. Similar rules are also in place in neighbouring provinces Long An and Binh Duong, industrial heartlands also experiencing surging case numbers.
According to the Vietnam Textile & Apparel Association, 30%-50% of garment factories have had to close, because they were unable to meet the regulations, resulting in cancellations and some customers shifting orders to competing countries. Hi-tech manufacturer Intel has reportedly raised alarm bells over the costs of housing employees at assembly plants.
Julien Brun, managing partner at supply chain consultancy CEL, said factories still operating were running at 50%-70% of nominal capacity, depending on the industry.
He told The Loadstar: "The challenge for most labour-intensive factories is that, once a Covid case is detected, the whole factory is closed. This gives an extra layer of uncertainty behind the available capacity to produce to fulfil orders."
Furthermore, Mr Brun noted, many factories in Vietnam had further slowed operations as they are missing critical supplies due to port congestion, delayed customs checks and a lack of shipping capacity.
"This contributes to the quick depletion of inventory and running out of components or raw materials," he explained. "And besides production components, maintenance is also affected, with missing spare parts for machinery."
Logistics firms are feeling the brunt of the city's Covid-crisis, too. A manager at one top multinational forwarder said that, while the industry supported the authorities' efforts to control the pandemic, the "lack of a co-ordinated approach is impacting companies tremendously".
For example, he said, the company had to register truck drivers with multiple ministries to keep them on the roads, as well as find them authorised 'bubble' accommodation.
"It is very a difficult time for logistics companies in Vietnam," he told The Loadstar. "To continue to operate, we are providing a PCR test every two-to-three days, and safety suits and masks. Office staff have sacrificed family time to be kept in a 'bubble' so we can support our customers. They are not allowed to go home and we have to deliver food and daily essentials to them.
"On top of all this, we are paying allowances to all the staff for enduring these tough times. And as the lockdown extends, it is getting more difficult to continue to absorb the cost while keeping our staff motivated.
"The logistics industries are doing their best to serve customers who are part of Vietnam's position in the global supply chain. But if logistics companies fail to deliver, Vietnam's position in the global supply chain will be under threat as well."