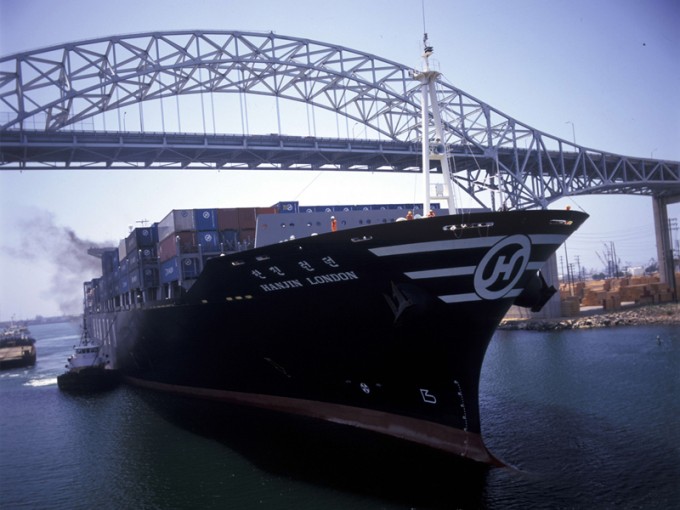 While South Korean shipping group Hyundai Merchant Marine (HMM) fights for its very existence this week, compatriot Hanjin Shipping is looking at ways of improving its profitability – including speeding up its ships and offering niche services.
Several analysts have concluded that a merger between Korea's largest shipping group, Hanjin and the second-biggest, HMM, is the most logical option for the survival of the ailing latter.
However, Hanjin appears undistracted by this speculation, and is instead putting its own house in good order with a number of innovative schedule changes designed to cater for customer needs.
Yesterday it announced that it will commence a new express service linking China with the US west coast in response to what it said was increased customer demand for a "fast and reliable" service to the American market.
The carrier will commence its standalone loop, dubbed the China America Express Service (CAX), on 24 May, deploying five 4,000 teu container vessels on an 11-day transit with a port rotation of: Ningbo, Shanghai, Long Beach, Tokyo, Osaka and then back to Ningbo.
"Hanjin Shipping is launching this new service to meet customers' increasing demand for a fast and reliable service from Central China to the US west coast," it said in a statement.
It is an interesting response to the 15-day transit on its 18,000 teu ultra-large container vessels offered by CMA CGM, and pitches it against the successful 10-day transit of the US-flagged Matson's China-Long Beach Express service.
Elsewhere, between Asia and North Europe, Hanjin announced last week that it was removing two 13,000 teu vessels from its NE6 loop, which it operates in conjunction with its partners within the CKYHE alliance.
This will entail the service deploying only nine 13,000 teu type ships, instead of the current 11, and will be achieved by making less port calls and increasing vessel service speeds.
Commenting on the changes to the restructured NE6 loop, which starts on 3 April, Hanjin said: "It will also allow even faster cargo transhipment to West and North Africa through Algeciras as well as shorter transit times between Asia and North Europe."
In the same communique, Hanjin said it will replace its jointly operated PM1 (Pacific-Med Pendulum 1) service with its own HPM (Hanjin Pacific Mediterranean Pendulum 1) service from 6 April, deploying 15 10,000 teu ships.
"Through this restructuring, we are confident that we will provide more stable, swift and higher quality services to our customers.
"As such, Hanjin Shipping intends to improve business profitability by providing exclusive services to areas with great potential for market growth" it said.
Hanjin posted a net profit of $6m for 2015, in contrast to the net loss of over $500m that HMM suffered.
However, Hanjin also added: "Difficulties are likely to continue in 2016 in the container market due to the imbalance of supply and demand. Nonetheless, with aggressive expansion to emerging markets and strengthening competiveness together with various cost saving efforts, it is expected to continue the positive figures this year."