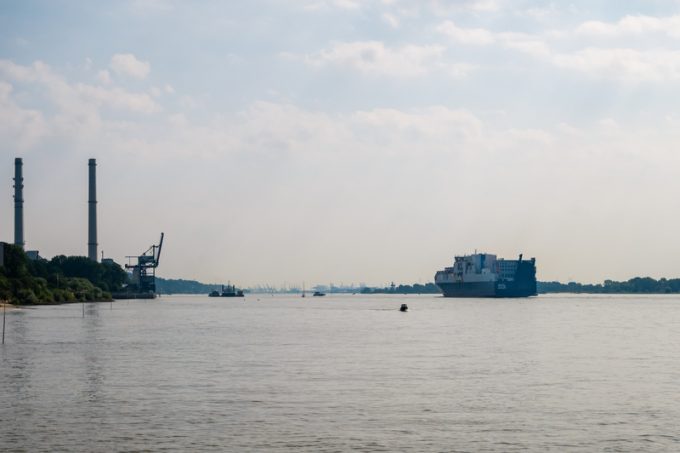 Ocean carriers serving the port of Hamburg will benefit from a significant reduction in vessel downtime following the completion of widening projects on the river Elbe.
Yesterday saw the opening of a 7km, 385-metre-wide 'passing box' on the river, between Wedel and Wittenbergen, allowing ships with a combined width of 98 metres to pass one another, thereby easing delays caused by time consuming one-way traffic restrictions.
Additionally, the fairway along a 36km section between Wedel and the mouth of the river Stor has been widened to 320 metres from 300 metres, enabling ships with a combined beam of 92 metres to pass or overtake.
"We are on a good course, immediately improving the conditions for calls by mega-ships," said Axel Mattern, joint chief executive of Port of Hamburg Marketing.
Combined with the completion at the end of last year of a holding area at Brunsbuttel, which allows anchorage facilities for ships that miss a tide window, Hamburg said it was confident it would be able to encourage more calls by the largest newbuild ULCV.
Andreas Scheuer, the German minister of transport, said the completion of the widening programme on the river would "boost flexibility, efficiency, capacity and safety".
He added: "Because more and also larger vessels can call and depart simultaneously, the number of mega containerships can then be more than doubled to 2,800 calls a year."
The latest design of newbuild 24,000 teu ULCVs – dubbed Megamax-24s by Alphaliner – are around 400 metres in length and feature 24 container rows across the weather deck to give a beam of some 61 metres.
Previously, ships calling at Hamburg were subject to numerous restrictions along the 120km stretch of the Elbe between the estuary and the boundary of the port. And as containerships quadrupled in size in the past 25 years, navigating the restrictions became more of a headache for ship operators.
During its decade-long struggle to gain approval for the deepening and widening of the Elbe, Hamburg lost a vast number of vessel calls and, consequentially, container throughput to rival Benelux hub ports at Rotterdam and Antwerp. Moreover, carriers calling at Hamburg were often restricted on what could be loaded on a previous port, due to draught restrictions.
"It [Hamburg] is a nightmare for our planners; it has cost us a fortune in lost revenue over the years," one Felixstowe-based cargo superintendent told The Loadstar recently.
"We are often forced to leave exports on the quay in the UK if Hamburg is the next port of call," he said.
But with dredging well under way on the Elbe and the deepening of the river by around one metre expected to be completed by the summer of 2021, estimates suggest that each ULCV visiting the city port will be able to load around another 1,800 teu.