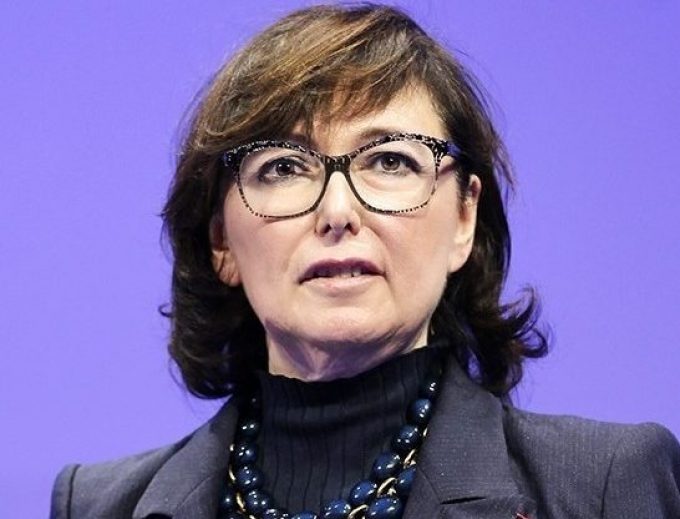 It's not just DB Schenker that is looking for investment outside of its state rail shareholder. Geodis CEO Marie-Christine Lombard (pictured) has not ruled out the possibility of opening up the company's capital in order to fund a "transformative" acquisition – should its traditionally cash-strapped parent company, SNCF, not be in a position to provide the necessary financial backing.
Her comments to France's business newspaper, La Tribune, were confirmed to The Loadstar by a company spokesperson.
In recent years, there has been speculation that the French state railway's high level of debt has been a principal factor in Geodis failing to obtain the required funds to make a major acquisition that could help propel it into the top five LSPs, against a backdrop of fast-paced consolidation in the sector.
The intended M&A strategy was outlined following the acquisition of US firm Ozburn-Hessey Logistics (OHL), since rebranded Geodis USA, back in 2015. Media reports at the time valued the purchase at around $800m.
"For OHL, SNCF was our 'banker'. We paid our acquisition debt very quickly and created value for SNCF," explained Ms Lombard.
She added that the 'value' had increased over the past five years and Geodis now accounted for more than a third of the SNCF group's turnover and a large part of its earnings.
In September 2017, it was reported that Geodis had dropped plans to acquire Ceva Logistics, with SNCF appearing reluctant to put up the estimated €2-3bn required.
Last month, Geodis announced it had signed an agreement to acquire US company Need It Now Delivers, a specialist in last-mile delivery and multi-channel contract logistics. Its revenues are expected to be close to $750m this year.
Ms Lombard underlined that if Geodis' capital was to be opened up to outside investment it would be in the context of "a major, dimension-changing acquisition" where the purchase price was several billion euros and SNCF was not able to finance it.
"But we are not going to open up the capital while waiting for [acquisition] targets to come forward. And we would also need the agreement of the state, the ultimate shareholder. SNCF is a very good shareholder and it is preferable that it continues to hold a key stake. If it can continue to support us and this is its idea, there is no rush to do anything. We can perhaps look for money elsewhere, but SNCF's role is fundamental in ensuring that Geodis remains a French logistics company."
Asked whether Geodis could launch an IPO to raise cash, Ms Lombard replied: "In the longer term, this is one solution, but it's not the only one. Since the Covid crisis, logistics has been in the spotlight in a positive way. Suddenly, many financial investors have said to themselves, '[logistics] is an interesting sector'. So the opportunities are varied. We have SNCF as an industrial investor, and perhaps a financial investor will come in a complementary role. This would be the best set-up."
As to what is missing in Geodis's portfolio and where acquisitions could be made, Ms Lombard noted: "We are in a rather strange situation today; we are a French company that has developed on the intercontinental market by following our clients, but also in an opportune way, for example, in the US, which has become an essential market for us. France remains predominant in our geographic footprint, with 30% of our business, and the US comes second with 23%. This share will continue to grow with the integration of Need It Now Delivers.
"But Europe, which should be our extended 'domestic' market, is only in third place and in a fragmented way. We are starting to have a very strong position in Poland and a fairly strong position in the Netherlands. But we are missing Germany, where we nevertheless generate €550m in revenue. Strengthening Eastern Europe and Germany is our priority with a mix of organic growth and acquisitions. But there is not a great number of potential targets and our major competitors are German. Secondly, we are continuing our efforts in the US, which is a very strong source of profitable growth."
South-east Asia is also on Geodis's radar for expansion after an initial move in the region with the acquisition of Keppel Logistics.
"Keppel has warehousing capabilities in Singapore, where real estate is a key logistics asset, to handle orders, inventory and transport for our customers. This transaction is very important as we see a large part of our customers' business migrating to Singapore from China and Hong Kong."