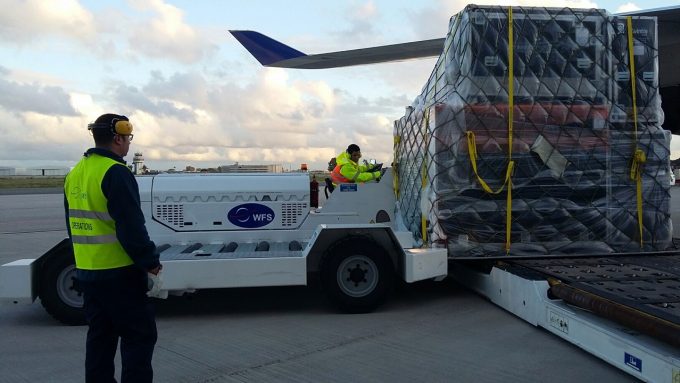 Forwarders are threatening to stop using airlines whose handlers have very high charges in the UK following a severe increase in storage prices that they claim will cost the industry millions.
But handlers have pointed out their huge rise in costs, and increasing congestion as forwarders fail to pick up freight on time.
At the end of last year, WFS issued new terminal handling and storage charges – a particularly big rise as the handler has reduced free storage times from 24 hours to 18 and ramped up costs further after 36 hours and 54 hours.
"It is lunacy," said one forwarder. "Work out the costs. If you leave a five-tonne shipment at the airline, it gets overlooked or there is a mistake, for seven days, the cost will be in five figures.
"Couple that with the fact that it's been taking five days to get freight out of the sheds, it's not very customer-focused in its approach.
"The storage charges are monstrously messy and frightening. WFS is taking inflation measures to another level and reducing the free period to make it almost impossible to manage – and other handlers will follow."
WFS, however, argued that not only had costs gone up, but that it is investing to improve the process for everyone.
"In short, costs as a result of Brexit and the pandemic have impacted all operations. In the UK this has had a profound impact to the operation across all handlers. Over the last few months this was especially significant as freight forwarders failed to collect freight, impacting the whole operation and creating backlogs (this was across the globe).
"In saying this, we fared better than most in the UK due to the way we managed our people. This demonstrated what a loyal and committed team we have. Additionally, the UK operation also immediately increased its capacity (sourced B577 as a temporary solution), the leasing of additional trucks to accommodate the loads and reduce delays as a result of increased flights/backlogs etc."
Other handlers have yet to increase their rates for 2022, but Swissport's November rates show it offers 24 hours free storage at London airports and 48 hours in other UK facilities, with the charge set at £15.04 ($20.37) a day per 100kg after that.
WFS starts at £17.60 a day after 18 hours, rising to £35.20 after 36 hours and to £70.40 after 54 hours. As a result, forwarders say they will recommend their customers use airlines with cheaper handlers.
"All we will do is ensure all carriers WFS handles are avoided and instruct overseas offices not to book – so that is very damaging for both their customers [the airlines] and their own business model, although they will certainly create capacity in their warehouses."
Another forwarder agreed: "Our goal is to minimise handling charges as well as other operational costs for our clients. I can confirm that we would certainly avoid utilising handling agents that are charging excessively compared with other players in the market."
The charges have had a domino effect: airfreight road transport provider UCH Logistics told customers it would offer a WFS priority collection service at £0.06 per kg, which would try to avoid the handler's storage charges.
"It's a double whammy," said one forwarder. "Not only is WFS massively hiking its rates, but now hauliers are having to as well in order to collect pre-6pm and avoid storage. It's a vicious circle."
But handlers have been keen to implement big storage charges in an attempt to clear their warehouses, with dwell times increasing in the past year, thus reducing their capacity. One said it only introduced higher storage charges to incentivise forwarders to clear the freight, but that it hadn't worked.
"We doubled our storage charges, and then did it again, but still no one picked up the freight. It's caused congestion in our warehouses and it's been chaos."
Another UK handler recalled that just before Christmas, a forwarder had asked to collect a very large shipment on a Friday – but failed to turn up until the Monday afternoon, leaving the handler with its door blocked.
"Forwarders do't do anything to help themselves," said one handler. "What are they doing to fix the problems? How do they intend to improve the collection process? There are truck booking slots, pre-booking processes, but they don't use these initiatives. We are trying to make it better for everyone."
Handlers last year told The Loadstar their costs had risen significantly, but they were unable to adjust their contracts with the airlines mid-term, leaving them out of pocket. WFS pointed to huge rises in consumables, energy and labour, as well as investment.
Robert Fordree, head of cargo for Menzies, explained: "When we talk about volumes, we don't have the ability to flex rates up or down, so we have to forecast. But we try not to materially impact our customers with our THC tariff, as they are operating in a competitive market.
"But it leaves us a bit between a rock and a hard place. We have an inflationary increase on THCs, but what we've experienced is unprecedented in terms of cost structures."
One handler added: "Our airline contracts don't even cover the cost of our people. You'd never be able to stay in this business if you only charged the airlines. You can't survive without THCs." He noted that while airlines' all-in rates had gone up, the handlers' share of that had fallen.