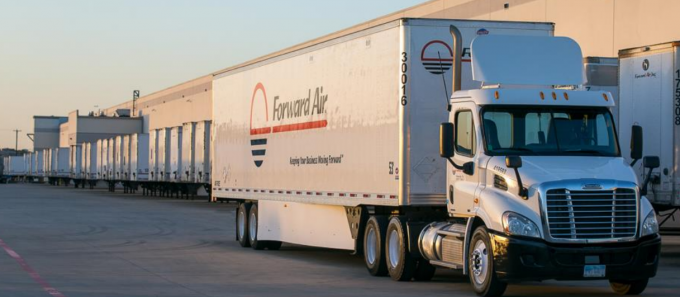 Forward Air, the largest US provider of road feeder services (RFS) to the air cargo industry, is moving beyond the airfreight sector.
The Tennessee-based company has unveiled a regular less-than-truckload (LTL) service out of its facility at Savannah, Ga.
"Savannah marks the first time we have expanded our LTL network beyond our airport-to-airport footprint," said Tom Schmitt, chairman, president and CEO.
"We are leveraging our final-mile network to greatly reduce the level of investment required for this expansion. Savannah is a great example of the synergies within our networks that offer opportunities for growth."
To observers, the move does not come as a surprise. Forward Air has made a number of acquisitions that position it to reach beyond air cargo.
The takeover of rival Towne Air Freight in 2015 strengthened its position in the RFS market and gave it a final-mile platform for home delivery of appliances and furniture. And last year it acquired FSA Logistix and Linn Star, expanding its final-mile capabilities.
But the strongest signal of a shift in focus came this year when it rebranded itself simply as Forward, to reflect a broader range of capabilities, although it retained Forward Air as its legal name.
Recent developments likely reinforced its management's resolve to build capabilities outside air cargo. Forward Air's results for the first quarter show a 6.5% increase in revenue, to $342.5m, but operating income and net income more than halved, with the former going from $24.7m a year earlier to $11.7m, while net income plummeted from $18.4m 12 months earlier, to $8.4m.
The rise in revenue was driven by the company's final-mile and intermodal acquisitions, whereas its core sectors suffered declines. Mr Schmitt described the impact of Covid-19 as "a perfect storm" that hit the company's exposure to imports from Asia and the retail mall business.
In light of these results, and the weakness of the retail sector and decline in air cargo volumes, Forward Air's heavy focus on airfreight does not look very attractive to investors. Software firm Simply Wall St noted that the company's earnings per share dropped 14% last year, and that estimates from six analysts covering it suggest 1.6% annual growth in earnings over the next three years – markedly below a 9.2% growth projection for the rest of the market.
While air cargo volumes are down from a year earlier, a move to a broader market should boost Forward Air's revenues and profits, especially if it can leverage existing capabilities.
"Incremental revenue will work for Forward Air," commented Jens Tubbesing, chief executive of Airline Network Services. Demand for RFS providers has also been affected by the recent decline in outbound airfreight rates from the US both to Europe and Asia. Airfreight pricing to Europe has fallen from around $3 per kg to less than $1, which makes RFS over longer distances not viable, he said.
Revenue from non-airfreight business should be a welcome addition to bolster the company's results in the foreseeable future.