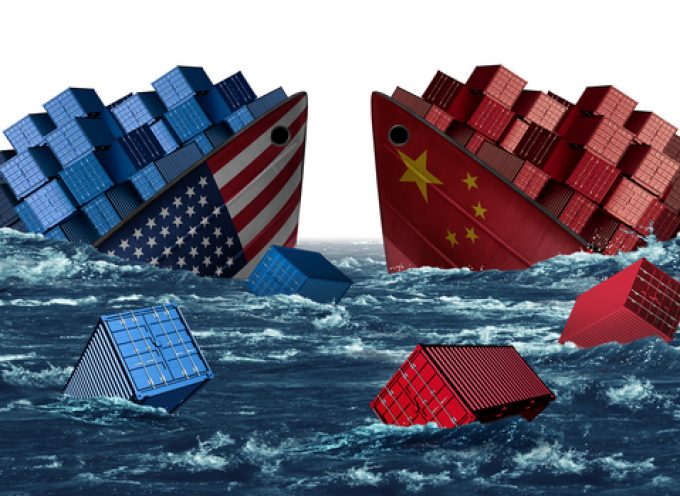 This week's Shanghai Containerized Freight Index (SCFI) recorded further declines for Europe, but transpacific tradelanes rebounded as shippers struggled to digest the latest barrage of US/China trade tariffs.
The North Europe component of the SCFI fell another 4.5%, to $757 per teu, which is 19% below the level of the same week of last year.
And the more robust Mediterranean tradelane also suffered a spot market dip, of 7.6%, to $895 per teu.
With the peak season almost at an end, there seems little to stop further declines in the container spot market, other than a possible rate spike ahead of the Golden Week holiday in China, the first week of October.
Indeed, The Loadstar has heard of several carriers discounting their September FAK rates to reflect the soft demand outlook from Asia to North European ports.
Contract rates on the tradelane are also tracking south, according to an analysis of its latest crowd-sourced data by Oslo-based ocean freight market intelligence platform Xeneta.
Xeneta recorded a 1.4% decline in its European import benchmark for August and gave a generally negative outlook for liner trades, opining that "the market remains on a downward trajectory".
Meanwhile, the transpacific market has been thrown into further turmoil by the US president's tweets last Friday that the US would raise the duty on $250bn of Chinese imports from 25% to 30%, effective 1 October.
Furthermore, the president, reacting angrily to new tariffs on US imports announced by China, said the original 10% planned tariffs on another raft of $300bn of consumer goods would now be increased to 15%.
The new tariffs are expected to be imposed from 1 September, although some items, such as electronics, have been exempted until 15 December, in order to avoid disrupting the US Christmas shopping period.
One analyst suggested to The Loadstar that the temporary reprieve would not necessarily benefit shipping, due to the fact that high-value goods were normally transported via air freight.
According to online freight marketplace Freightos, vessel utilisation between China and the US west coast "is close to the lowest point in 15 months" – and this is happening during the peak season, when ships should be 'full to the gunnels'.
The forward booking outlook must also be of concern for transpacific carriers, explaining the raft of blanked sailings announced by OOCL and its Ocean Alliance partners around Golden Week.
Nonetheless, whether a blip or reaction to the uncertainty over tariffs, the SCFI recorded a massive 25.6% leap in spot rates for the US west coast this week, to $1,615 per 40ft, and for US east coast ports an impressive 10.5%, to $2,691 per 40ft.
And in further 'good news' for carriers, ports and eventually shippers, The Loadstar understands that the United States Trade Representative (USTR) the government agency responsible for setting tariffs, has removed Chinese-manufactured ship-to-shore cranes and shipping containers from the list of goods subject to the tariffs.