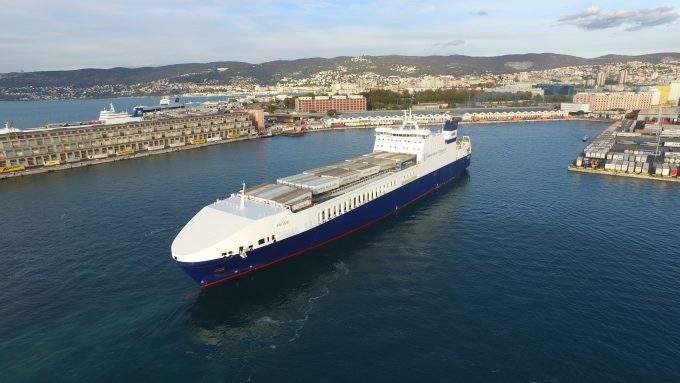 Fast-growing multimodal Turkish logistics firm Ekol has bought a 65% stake in Europa Multipurpose Terminals (EMT), the ro-ro terminal operator in the Italian port of Trieste, its main European gateway.
Ekol's ro-ro shipping subsidiary, Alternative Transport, operates four weekly services between the Haydarpasa terminal in Istanbul to Trieste, and one a week to the French Mediterranean port of Sete.
Trieste has also acted as its intermodal hub for Europe, with 44 weekly train services running from there to Cologne and Ludwigshafen in Germany, and Ostrava in the Czech Republic
The company is also building the Yalova Ro-Ro Terminal, around 100km from Istanbul, which promises to be the most modern in the country when it opens next year, and will see the company transfer its sailings from Haydarpasa.
Ekol Logistics and Yalova Ro-Ro Terminal chairman Ahmet Musul said: "The port of Trieste enjoys a vital location for our intermodal transportation solution, a pioneering service we offer to customers in a superior, sustainable, low-cost and effective way.
"We solidified our position here by acquiring the majority of Europa Multipurpose Terminals, the company we received services from up until now.
"We are sure to make a leap by proceeding with a such a seasoned team in port operations. I am confident that we will convey the experience we gain to Yalova Ro-Ro Terminal, scheduled to open in beginning of 2017," he added.
The terminal investment comes has been accompanied by investment in the Alternative Transport ro-ro fleet. Last month its latest newbuild, the Meleq, was launched for sea trials and will begin operating in February. Mr Musul said it wwoudill operate the Turkey-Trieste route.
"Three years ago we set out on our journey chartering vessels. Today we are proud to be launching our sixth ro-ro vessel.
"On the way, we have achieved sustainable growth and invested more than €100m in expanding our fleet. After introducing Meleq, we will continue to open new routes and increase frequency in existing routes through new investments.
Francesco Parisi Casa di Spedizioni, the majority shareholder of Europa Multipurpose Terminals until this deal, said: "Port Authority of Trieste joins the old and new shareholders of EMT in welcoming this new development which consolidates the position of Trieste as the leading port in the north shore of the Mediterranean for the Motorways of the Sea connections with the eastern Med and intermodal rail-sea services."
And with the planned investments at Trieste, Ekol said that two separate ro-ro operations could be handled simultaneously, while train loading capacity will increase to 10 round-trip services a day. This year's throughput of 110,000 units carried by ro-ro vessels and 70,000 units carried by trains is expected to rise to 140,000 units by ro-ro vessels and 100,000 units by trains in 2017.
It also indicated that it would open new routes from Italy to Egypt and Israel next year.