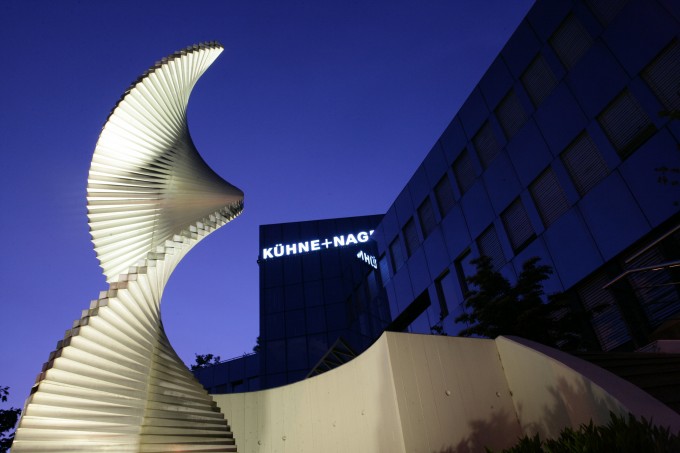 Another day, another top forwarder reporting results. This time, it's Kuehne + Nagel, claiming another "successful year" – despite a slight fall in gross profit.
The group claimed CHF679m (€626m) in earnings for the year, up from CHF644m. Net turnover fell 4.4% to CHF16.7bn, however, owing to a strong Swiss franc.
In sea freight, K+N said it had focused on profitable business, resulting in a volume fall in the first half, although the second half saw growth in North American and intra-Asia tradelanes.
While European exports "stagnated", trades to and from both North and South America saw rising volumes. The group handled 3.8m teu, the same as in 2014, but gross profit per teu rose 5.2%.
Airfreight volumes rose 4.7% to 1.25m tonnes, outperforming the market. K+N acknowledged a focus on specific sectors as part of the reason for its success, with business wins in pharma, aerospace and perishables. Its innovate booking platform, KN FreightNet "proved to be an effective sales channel", it said.
Groupage activities in Germany, France and the UK expanded, and the acquisition of US company ReTrans helped boost business in North America in the last quarter.
The forwarder said its contract logistics arm had enjoyed high demand and new business wins, and it created an extra 860,000sq metres of warehousing space.  However, results fell.
"Net turnover from contract logistics saw a currency-adjusted increase of 5.5%, placing it above the market average. Nevertheless, negative currency effects, which particularly affected this division, and the drinks logistics business in the UK, significantly impacted the result. EBIT decreased from CHF153m in the previous year to CHF119m."
Regionally, net turnover in Asia Pacific stayed flat while gross profit rose 10.9%. In the Americas, net turnover rose 9.2% and gross profit increased 14%. Net turnover in the EMEA region fell 9.5% – mainly as a result of the strong Swiss currency, while gross profit fell 5.1%. In total, gross profit was CHF6.2bn, down by 0.6%.
The company also announced a board reshuffle: executive deputy, Karl Gernandt, will become president of the board of Kuehne Holdings as of May 2016; Dr Joerg Wolle will succeed Karl Gernandt as chairman of Kuehne + Nagel International; vice-chairman Bernd Wrede will stand down; and Hauke Stars will join the board.