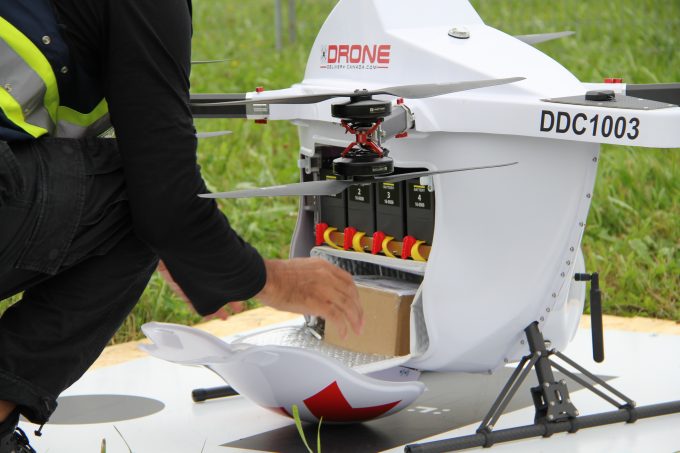 Air Canada Cargo is taking drones under its wings. The Canadian airline has signed a sales agency agreement to market the routes and capacity of Drone Delivery Canada (DDC), an Ontario-based drone operator poised to embark on commercial operations.
Unlike most other drone operators, DDC has not focused on the development of a particular vehicle but concentrated instead on the establishment of the system to operate a drone network and obtain the necessary certification, noted Tim Strauss, vice-president cargo at Air Canada.
Mr Strauss is also a member of the advisory board of DDC.
"Once you get over 25lb (11.3kg), your drone is no longer a toy, it's a plane, so the rules change. You have to establish routes and get them approved just like an airline," he said, adding that DDC has an operations control centre akin to an airline's systems operations control centre.
"Its system can be put on any drone," Mr Strauss remarked.
Under the agreement signed yesterday, Air Canada has the rights to the first 150,000 lanes that DDC sets up and gets approved and will create a dedicated sales force to look after the drone activities.
"We need to run this as a separate organisation. It's a different ball game from cargo selling. We want people devoted to this so they can focus on how to make this go," Mr Strauss said.
At this point the operation is only targeting the Canadian market, aiming chiefly to serve rural and remote communities.
DDC has been running trials since October 2017 serving the Moose Cree First Nation in northern Ontario, a remote area where a carton of orange juice sells for CAD 20 (US$14.88), owing to the logistics costs involved.
The drones primarily carry items like medical samples and supplies.
According to Mr Strauss, there is strong interest from remote communities, as well as provincial and federal government bodies that are looking to improve support for first nations and remote communities. Canada has a large number of these.
"Unlike Amazon, we hope to be profitable soon," Mr Strauss quipped. He expected commercial operations to get under way around October.
Initially DDC will move shipments under 50lb, with larger models capable of lifting heavier payloads to follow later.
At this point there is no link to Air Canada's own network. Drones will operate chiefly depot-to-depot, although it is possible to run drone operations from airports, some of which are establishing drone pads, he said.
"This (agreement) is for Canada," he said, but added that DDC will also develop a global system, where Air Canada and other carriers will be able to connect shipments to the drone operation. He reckoned that other countries and airlines would likely get involved at that stage.