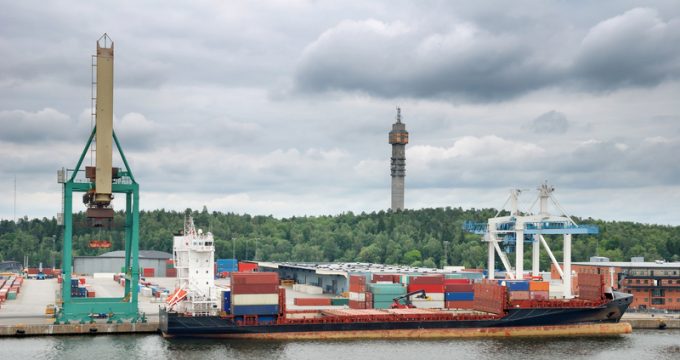 The continuing stand-off between labour and management at Sweden's main box gateway of Gothenburg is beginning to have a structural impact on the country's container supply chains.
Gothenburg reported a 19% decline in container shipments in 2017, the port's largest ever throughput fall, due to the "long-running labour dispute between the Swedish Dockworkers' Union and the terminal operator APM Terminals Gothenburg".
It "had impacted in part on volumes for 2016, although the repercussions were greatest in 2017", it said. It handled 644,000 teu last year.
"This is a downturn we have never been close to at any point in the history of the port, and it took place in a year when container trade globally had increased," said Magnus Kårestedt, port of Gothenburg chief executive. "It is difficult to put into words the seriousness of the situation".
As if to confirm his view, the port of Stockholm yesterday reported record freight figures for last year, box volumes growing 11%.
While Stockholm is the country's political centre, Gothenburg has always been Sweden's main engine for the country's logistics industry. But recent trends suggest this may be about to change.
Richard-John Lagerberg, manager of freight and logistics at Ports of Stockholm, told The Loadstar: "Part of the increase has to do with the difficulties in Gothenburg, but basically, volumes are driven by a strong Swedish economy and especially a dynamic and fast-expanding Stockholm region."
Over the next couple of years, substantial new container terminal capacity is coming to Sweden. The east coast port of Gavle announced last month that port authority and terminal operator Yilport would jointly invest Skr700m (US$89m) to build a second quay, with greater depth to accommodate larger container vessels.
The expanded terminal will be able to handle four ships simultaneously and will increase annual capacity to 600,000 teu. The work is expected to be completed in the fourth quarter of 2019.
Also last year, Hutchison signed an agreement with Ports of Stockholm to create a new container terminal in the port's Nynäshamn area, 60km south of the city.
It will have 450 metres of quay with a depth of 16.5 metres alongside when it opens in 2020 – and future expansion will take capacity at the port to 450,000 teu.
Hutchison has operated Container Terminal Frihamnen (pictured above) in central Stockholm since 2009, which will be redeveloped by the ports authority for residential and leisure purposes once the new box facility opens.
In the long-term, these new ports will present Swedish shippers with a far greater array of gateway options.
Gothenburg's Magnus Kårestedt added: "We had hoped for a recovery towards the end of the year, in the absence of any industrial action since last summer. But this was not the case.
"The message from the freight owners is loud and clear – the constant threat of industrial action hanging over the container terminal means they will not be returning without a long-term solution that will ensure reliable freight handling over time."