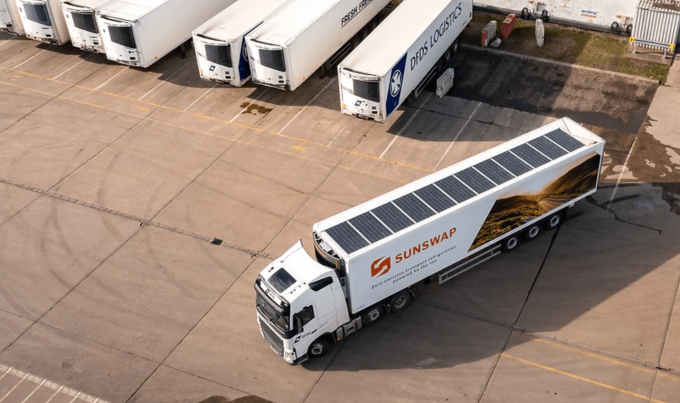 DFDS is to buy Sunswap transport refrigeration units (TRUs), reefer trailers powered by solar panels and batteries.
The solar panels provide power to the refrigeration system during its journey, extending the charge in the battery.
In tests with DFDS, the Sunswap TRUs proved capable of two 11-hour truck journeys across the UK after an 80-minute charge using a conventional type 2 electric car charger.
"What that shows is operational parity to diesel units," said a Sunswap spokesman.
Sunswap claims switching to an electric TRU could reduce ownership costs by 25-35% in comparison with a diesel TRU. However, Sunswap would not disclose the battery capacity of its system.
The solar panels are capable of providing all the energy required to keep the cargo cool, said DFDS, although "typically" the figure is 65%-100% – long enough to sustain itself over the course of many DFDS ro-ro voyages.
Matt O'Dell, UK MD of Cold Chain at DFDS Logistics Services said: "We are thrilled with the results of the trial and excited to integrate Sunswap zero-emission TRUs into our fleet, which should happen within the next year. This is a significant step in building our capability to achieve climate neutrality."
He added: "DFDS is pioneering green technologies throughout its operations, in line with a commitment to reduce emissions by 45% by 2030, and to ultimately achieve climate neutrality. Sunswap estimates there are 5.6m TRUs on roads globally, virtually all of them powered by diesel."
"Transport refrigeration is seen as a significant barrier to the UK government's target to bring all greenhouse gas emissions to net zero by 2050," said Sunswap CEO Michael Lowe. "As the industry continues to step up, we will work as fast as we can to meet the demand for our tried and tested, cost-effective, sustainable transport refrigeration solution."