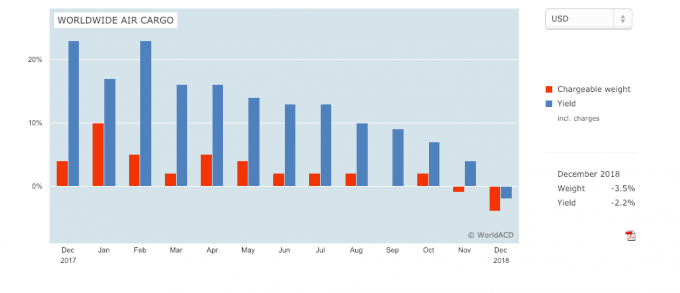 A weak end-of-year left air cargo with negative year-on-year growth and negative yields growth in December, according to the latest data from WorldACD.
The last week, it noted, had been "particularly worrisome", with volumes down 10%, and December volumes from the larger regions (Asia Pacific, Europe and North America) dropped by larger percentages than those from the smaller areas. 
The analysts also noted a year of two halves. The first eight months showed year-on-year volume growth of 3.7%, but from September to December, "things started to look much less positive", with three of the four months showing volume decreases and an overall decline of 0.6%. Volume for the whole year was 2.2% up on 2017. 
Bright spots were Latin America, regionally, up 8.4%, and pharmaceuticals, up 14.8%. You can read WorldACD's full report here.