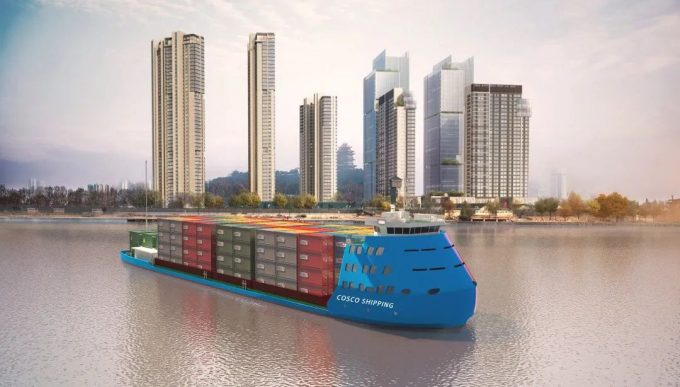 Shanghai Pan-Asia Shipping, the intra-Asia unit of Cosco Shipping Lines, has signed time-charter agreements with leasing affiliate Cosco Shipping Development (CSD) for two electric 700 teu feeder vessels.
CSD ordered the vessels from affiliated shipbuilder Cosco Shipping Heavy Industry (Yangzhou) for $18.24m, according to the company's filing to the Hong Kong Stock Exchange on Friday.
After delivery, in late 2023, the feeders will ferry containers between Shanghai and Wuhan, along the Yangtze, promoting green inland waterway transport.
Shanghai Pan-Asia is expected to charter the vessels on consecutive one-year terms, unless either party terminates the agreement in writing.
Each ship is 119.8 metres, 23.6m wide and has a draught of 5.5m, powered by 36 20ft containerised batteries that can be charged to 50,000 kWh of electricity using shore power. They are expected to be the first fully electric ships to work the Yangtze.
Mr Huang Xiaowen, executive VP of parent Cosco Shipping Holdings, said: "The selection of the Yangtze to promote green shipping is part of our plan to protect the river's ecological environment and to support the government's decarbonisation goal."
CSD said it was developing and manufacturing containerised batteries to facilitate the charging of electric vessels and battery replacements in key domestic waters.
President Xi Jinping has launched a target for China's carbon emissions to peak by 2030 and to achieve carbon-neutrality by 2060.