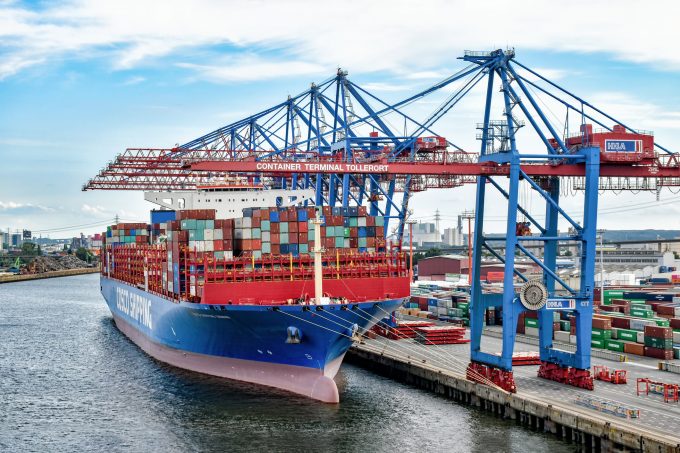 Cosco Shipping Ports (CSP) has been allowed a minority stake in Germany's Container Terminal Tollerort (CTT), one of operator HHLA's three container terminals in the port of Hamburg.
The decision followed an investment review by the German government lasting 13 months, required for the acquisition of shares by companies from non-EU countries.
In September last year, the terminal-operating unit of state-owned China Cosco Group announced its intention to invest in CTT, tipped to be a hub for Cosco Shipping Lines' (CSL) European services.
CSP was allowed the 24.9% stake in CTT after an intervention by German chancellor Olaf Scholz, a former mayor of Hamburg, despite the recent furore over CSP's original bid to buy a 35% stake in the facility.
The bid highlighted growing apprehension among western governments around China's emerging influence in critical transport infrastructure worldwide. The original bid, although accepted by HHLA, was denied by regulators.
However, HHLA and current Hamburg mayor Peter Tschentscher remained enthusiastic for Chinese investment. Mr Tschentscher's rationale being that refusing CSP would make Rotterdam and Antwerp, where CSP already owns shares in terminals, more competitive at Hamburg's expense.
Xeneta's chief analyst, Peter Sand, said: "HHLA seems to seek foreign investors like this to boost/secure port business, whereas the Berlin politicians are thinking around this in an arguably more holistic way. The shipper community merely wants ease of business and free choice."
Meanwhile, in a press briefing today, a China's Foreign Affairs Ministry representative said that the German government should look at the transaction from a practical perspective and stop speculating about whether China is trying to spread its influence across the globe.
In 2016, eyebrows were raised when Hong Kong-listed CSP, then known as Cosco Pacific, acquired a 51% in Greece's Piraeus Port Authority, which was upped to 67% in October 2021. Linerlytica analyst Tan Hua Joo told The Loadstar such controversies boiled down to local politics.
Mr Tan said: "It is all driven by domestic politics and has nothing to do with economics, because there is no economic justification to block such investments. German ports have already lost market share to rivals where the Chinese have investments."
Regimes less friendly to China are likely to bristle at any Chinese state-owned entity owning part of their infrastructure. In October 2019, a year after CSL acquired OOCL, the latter sold its Long Beach terminal to a Macquarie Infrastructure Partners-led consortium for $1.78bn, to assure US Department of Homeland Security and Department of Justice that the Chinese state would not control a major import facility in the US.
Most recently, around the time CSP's CTT investment was dividing the German government, Taiwanese opposition legislator Hwang Kuo-chang called out his government for allowing CSP a stake in Kao Ming Container Terminal Corp, which has a 50-year concession to operate Terminal No 6 in Kaohsiung port.
Taiwan's Ministry of Economic Affairs assured Mr Hwang Chinese state entities could not own more than 50% of the island's national infrastructure.
According to the eeSea liner database, Beijing-controlled firms Cosco and China Merchants own a 20% and 10% stake in the facility, respectively. Taiwanese carrier Yang Ming holds 50%, while NYK Line and Ports America each hold a 10% stake.
But more problematic might be the OOCL Kaohsiung terminal, where Cosco now has 100% control, following its 2018 acquisition of Hong Kong-based operator OOCL, which included its shipping and terminal interests – although the acquisition was only cleared by US legislators on security grounds after OOCL sold its terminal in Long Beach to a non-Chinese buyer.