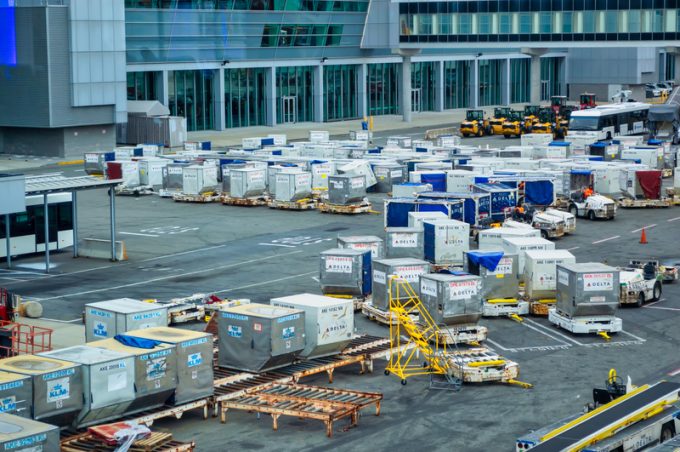 US shippers are now facing severe airport congestion – New York's JFK and Los Angeles seeing delays of up to two weeks to recover cargo, in some cases.
"We are truly struggling with the air product, in JFK especially," said one US freight forwarder. "There is huge congestion at JFK, while the airlines are not able to push the handlers.
"There is weeks and weeks of backlog and cargo on the tarmac in JFK terminals for weeks."
He added: "We continue to hear about the ocean crisis, but we are not seeing detailed messages about the air crisis at the larger airports. I have worked for a major freight forwarder for 28 years, and have never seen it as bad as at JFK.
"The rerouting of cargo is a challenge, for we have to add the additional cost of onwarding to the customer, as well as explain why this needs to happen."
Forwarder records seen by The Loadstar have revealed severe delays at JFK across several handlers, particularly in buildings shared by airlines.
China Airlines and China Cargo Airlines, handled by WFS, have delays of nine to 10 days for cargo recovery, while some 200 to 300 units have been left on the tarmac, according to one forwarder, who cited labour shortages as the main factor behind the congestion.
Emirates, Etihad and Kalitta Air, also handled by WFS, reportedly have delays of three to four days; boutique handler MSN has delays of one to two weeks; while Lufthansa Cargo's handing operation is also said to be struggling at the airport.
The forwarder added that he currently had missing shipments and "we have even sent individuals over to try and help look for cargo".
He added: "This is affecting the holiday seasons, and consumers are paying $15-$25/kg for air freight into the US."
One executive at a JFK-based RFS said: "We have dealt with the long lines and lack of employees, and I am hearing a lot of complaints."
It's not just JFK, although the congestion there seems most severe. WFS's operation at Los Angeles is also under pressure, with China Eastern's cargo facing pick-up delays of up to 15 days. Alliance and Swissport in Atlanta are seeing a few days' worth of delays – but Miami and Chicago O'Hare (ORD) are relatively clear for all handlers.
Chicago has had a rough year, congestion-wise, but sources said it had managed to resolve its difficulties.
"ORD was able to find solutions and move the imports off the airport grounds, due to the fact there was a lot of warehouse availability," said one forwarder.
"JFK has zero warehouse availability for this option. JFK is a critical market, with the port authority needing to open space on the airport, regardless of the condition of the buildings.
"ORD  worked through the congestion and staffing issues, and Covid. Other airports were not as creative. JFK is unable to find solutions and/or warehouse space."
Scott Case of Position: Global explained: "ORD sorted itself out primarily by getting more buildings for the busiest ground handlers. It took multiple buildings and divided up the work across them to provide sufficient real estate to break down the influx of cargo.
"New York hasn't made an investment in air cargo in a while. Chicago did – otherwise it would have been really screwed. The north-east cargo facility has been invaluable."
He added that LAX was suffering from a lack of warehouse space, "and the city is heavily focused on the 2028 Olympics, which is taking all its mental bandwidth".
Mr Case added that new security rules from 1 July, that require all freighter cargo to be screened, had reduced the space available. "The majority of cargo is currently coming in on freighters because of the lack of belly space, so that is making it worse.
"Canines handle the lion's share of screening, but TSA rules stipulate a certain amount of space must be used. That's created a challenge to manage import and export operations in the same space."