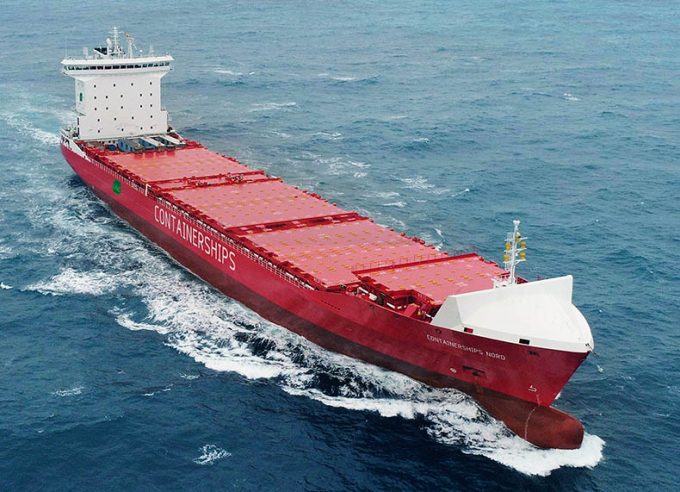 CMA CGM shortsea subsidiary Containerships has received its fourth LNG-powered vessel, the 1,380 teu Containerships Arctic.
The vessel will bunker with approximately 200 tons of LNG at Rotterdam and will be deployed on the intra-European carrier's Baltic service after a period covering for CMA CGM on its Baltic feeder service network.
The vessel joins its three sister ships, Containerships Aurora, Containerships Nord and Containerships Polar, with the final two in a series of five yet to be confirmed by the carrier.
The Finnish container line had placed orders for the LNG ships prior to its acquisition by CMA CGM in June 2018, but the strategy was fully supported by the new owner, which has decided to go down the same route with an order of 20 LNG-fuelled ships, including nine 23,000 teu ULCVs.
The first of these, the French-flagged 23,000 teu CMA CGM Jacques Saade, named after line's founder, was launched in September and is claimed to reduce emissions of sulphur oxides and fine particles by 99%, compared with current marine fuel options.
However, other carriers have yet to follow CMA CGM's LNG-fuelled strategy, citing continued concerns over the infrastructure to support its bunkering. And for existing vessels, retrofitting is not a viable option.
Even for so-called LNG-ready ships, converting the vessels to run on the gas is a very expensive and time-consuming operation, as Hapag-Lloyd has found to its cost.
The German carrier inherited 17 LNG-ready ULCVs from its merger with UASC but it has only decided to have one of these ships converted to LNG on "a trial basis". Chief executive Rolf Habben Jansen told The Loadstar earlier in the year that a "ballpark figure" for the conversion of the 15,000 teu Sajir was $25m, but it is understood that the final figure has exceeded $30m.
Subsequently Mr Habben Jansen confirmed that there were no plans to retrofit any other UASC vessels.
Elsewhere, MSC, which plans to have about half of its fleet fitted with scrubbers in order to comply with IMO 2020, said LNG was "not a viable option".
At the Hansa Forum in Hamburg last month, MSC's executive vice president, maritime policy and government affairs, Bud Darr, said the carrier would not be investing in LNG for any of its containerships due to the limited amount of LNG bunkering facilities available at ports around the world.
Nevertheless, the MSC group is not totally against LNG as a fuel option, evidenced by the recent delivery from a French yard of an LNG-powered mega cruise ship – the first of five on order.
Indeed, a study this year, commissioned by the not-for-profit industry foundation SEA/LNG, claimed LNG was the "most environmentally friendly, readily available fuel for shipping today – and in the foreseeable future".
Meanwhile, MSC, Maersk, CMA CGM and others are focusing their research and development on finding a sustainable alternative for fossil fuels and are reporting some limited success.
This is however proving a drag on new orders as carriers are reluctant to commit to technology that could be out of date by the time the newbuild vessels are delivered in two to three years' time.