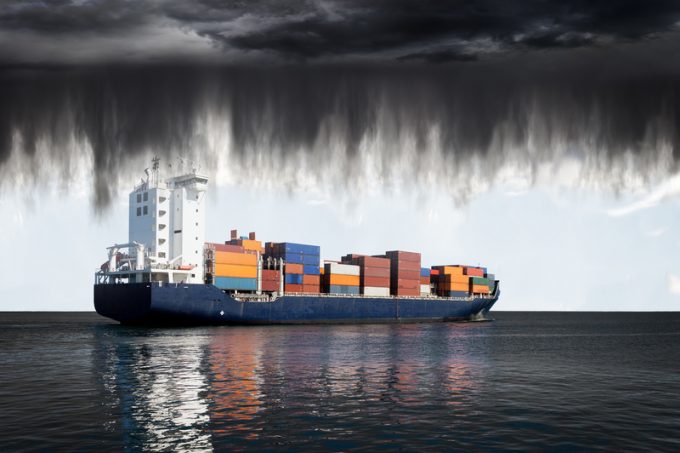 Drewry is expecting "marginally higher contract rates, higher fuel charges and better carrier discipline" this year, with global freight rates up by about 6%.
However, in its 2019 Container Freight Outlook presentation today, for the two major east-west tradelanes, Drewry has evidence of flat new January-December contract rates between Asia and Europe, but anticipates some improvement in transpacific annual contract rates when they are renewed in May.
In regard to capacity management, carriers have so far this year reinforced Drewry's prediction of "better carrier discipline" by blanking 15 Asia-US sailings and cancelling nine Asia-North Europe voyages this month to underpin rates in the softer demand market, following the Chinese New Year holiday this week.
Only yesterday the 2M partners, Maersk Line and MSC, pushed the void Asia-North Europe numbers to nine by withdrawing their AE10/Swan loop in week 7.
In its weekly Container Insight report, Drewry suggests success or failure for carriers hingesd on the number of weeks it takes spot rates to return to pre-CNY levels.
Last year, Asia-North Europe rates took 24 weeks to recover, while Asia to US west coast rates took 20 weeks. Conversely, however, after the CNY in 2015 spot rates took around two years to fully recover their value.
Drewry says it believes this year will see a focus on fuel surcharges, with most ocean carriers having rolled out their new bunker surcharge mechanisms on 1 January, exactly one year ahead of the IMO's maximum 0.5% sulphur content regulations, with the intention of maintaining the surcharge as a separate entity from freight.
Simon Heaney, senior manager of container research at Drewry, noted that historically carriers had only recovered around half of the extra fuel costs from customers, given that "a number of their bigger clients are given 'freebies', essentially, as the bunker element is factored into the all-in rate".
However, Mr Heaney added that because of the "huge increase" in fuel costs as a consequence of IMO 2020, with the price of low-sulphur fuel oil (LSFO) expected to command a premium of some $200 per ton on the current cost of heavy fuel oil (HFO), "the incentive to raise that ratio is there, and we think carriers will do better than the historical levels".
He said: "There is an absolute imperative for them to do better, otherwise they will haemorrhage money.
"[The carriers] are going to have to work harder to convince their shippers that [the BAF] is a justifiable mechanism and not just some revenue-generating add-on, which has been the claim of the past.
"I think that by doing this early, by introducing the bunker formulae towards the back end of last year, they have given themselves the time to have this dialogue with their customers; to iron out any of the issues and the questions that may arise."
Mr Heaney said the carriers had given themselves an opportunity to do better than historically on fuel cost recovery, but "we just don't know at this stage by precisely how much".
On the impact of the US-China trade war, with the clock ticking on the imposition of a 25% duty on some 5,700 Chinese imports on 2 March, Mr Heaney said that, for the purposes of its report, Drewry had assumed that there would be "some sort of truce" agreement coming out of the current rounds of negotiation.