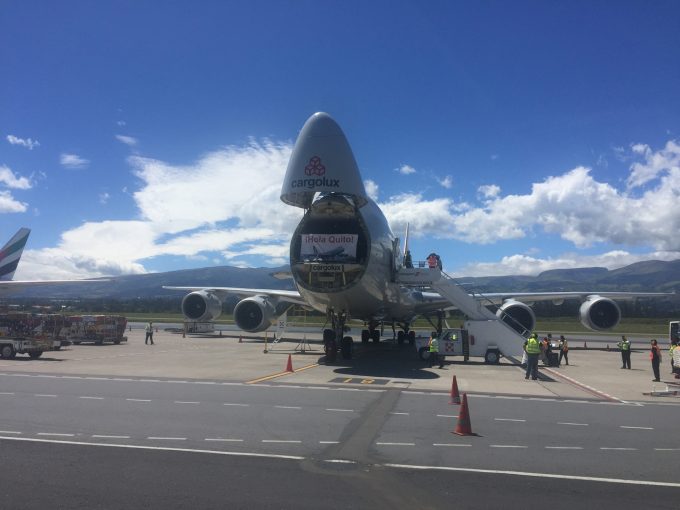 Media Release
Luxembourg, 3 December 2019 – Cargolux Airlines International S.A. is pleased to announce that it successfully renewed its Cargo iQ certification for the next 3 years. The Cargo iQ audit ensures that the company complies with Cargo iQ standards and contributes to the seamless transportation of air cargo in the supply chain.
Cargo iQ is an IATA-interest group comprising airlines and forwarders that aims at improving the work processes throughout the transport journey from shipper to consignee. The objective is to implement processes, backed by quality standards that are measurable and supported by data. As a founding member of the initiative, Cargolux takes the issue of seamless shipment transit very seriously and strive to enhance transparency and cooperation within the process.
The Cargo iQ re-certification reflects Cargolux's engagement towards an efficient supply chain. Franco Nanna, Director Global Logistics Services explains: "Cargolux has been committed to the Cargo iQ project since the very beginning and has been actively involved in the development and implementation of improved business processes. We are proud to have achieved the Cargo iQ re-certification, a testament to our engagement in the establishment of a smooth and seamless logistics chain."
Cargolux continuously monitors and assesses its procedures and policies to ensure quality service for its stakeholders. As an airline with a global network and an international customer base, it is crucial for Cargolux to ensure efficient service. Service excellence and efficient processes are central to Cargolux's philosophy and certifications such as this one ensures the highest standards are applied throughout the transport process.
About Cargolux Airlines International
Cargolux, based in Luxembourg, is Europe's leading all-cargo airline with a modern and efficient fleet composed of 14 Boeing 747-8 freighters and 16 Boeing 747-400 freighters. The Cargolux worldwide network covers over 75 destinations on scheduled all-cargo flights. The company has more than 85 offices in over 50 countries and operates an extensive global trucking network to more than 250 destinations as well as full and part-charter services. Cargolux also offers third-party maintenance at its modern two-bay maintenance hangar in Luxembourg. The company is specialized in B747 line and hangar maintenance up to and including C-Checks. It offers a range of specialized maintenance services and holds line maintenance approval for 777 aircraft. The Cargolux Group employs over 2,000 staff worldwide.