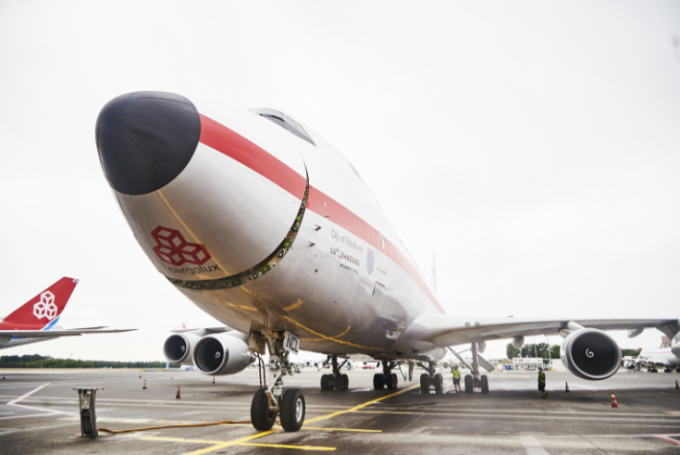 Cargolux made a record-breaking profit in 2020: net profit after tax was $768.7m, nearly four times higher than its previous record in 2018, with revenues at $3.17bn.
The 50-year-old carrier has never had such a strong balance sheet – lined with cash.
But is the money burning a hole in its pocket?
"It's all relative, the money," laughs CEO Richard Forson. "It's one year when we've made a significant profit. But this is one of the most capital-intensive industries – that money is only four aircraft.
"And things have changed now. In the past, we had Eximbank support for buying aircraft."
(US Eximbank, also known as the 'bank of Boeing', has faced criticism over its lending programme, which could force airlines into the commercial banking arena to pay full aircraft rates.)
Mr Forson adds that governments' focus on emissions could also hinder aircraft financing – especially with few freighter programmes launching.
"At this point, the latest technology is the 747-8F, that's from 10 years ago. There are no developments, going forward."
Boeing's mooted plans for a 777X freighter and Airbus's for an A350 are not concrete, he notes. "That's a dilemma a lot of airlines will face. And emissions will make it hard to get financing for second-hand aircraft."
But it's not just Cargolux's fleet requirements – its older aircraft beginning to retire in 2025/6 – that are worrying Mr Forson.
"This is a cyclical industry; 2012 to 2016 were very tough years for getting financing, all the more reason why I want to shore up the strength of the balance sheet."
On the "very profitable" passenger business, he says: "In one year, everything was wiped out and they needed state aid to keep going. Just one event and they are on the verge of bankruptcy. But if anything hit the freight sector, would anyone step in? I don't think so. There are not many freighter airlines and there would be less of an economic impact."
He notes the irony of passenger airlines that, shored up with government cash, they have continued to see aircraft delivered. Cargolux is far more used to tightening the purse strings.
"I need to build up the resilience of the organisation. I want to keep as much cash as I can. You never know when you are going to need it."
He points out that when demand dries up, there will be a lot more capacity in the market than usual, with every freighter that is fit to fly operating.
"When they are in trouble, they will drop prices to get cash until it's unsustainable, and then they will exit the market. At the same time, passenger airlines have realised the value of belly space. But when the downturn comes, all that space will be empty."
Mr Forson says the aircraft manufacturers' long-term forecasts, all of which predict growth, should not be taken at face value, however.
"They don't take volatility into account. Yes, over 50 years there will be a compound annual growth rate, but it doesn't look at how airlines manage the downturn, how to manage two or three bad years."
In fact, Cargolux's profits could have been higher if it had acted as other companies in the supply chain did, and some continue to do. Cargolux, rarely, adhered to all contracts made in the gloom of the end of 2019 and early 2020.
"2019 was really subdued, and 2020 was extremely subdued in the first two months. February was exacerbated by the closure of Chinese factories. So the BSAs we signed in 2019 and early 2020 reflected the rates we negotiated at the time – customers locked in very attractive rates. But we wanted to be as fair as possible, and we honoured all our commitments.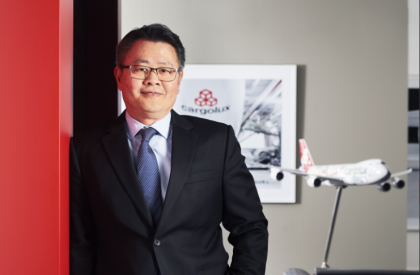 "It's the value system of the company, it's integrity. We signed it so we honoured it. For any additional capacity, customers had to pay market rates. But we continued making BSAs through the year."
Integrity seems to be a watchword for Mr Forson. What really stands out in the discussion is the way he has tried to protect Cargolux staff.
In an hour-long interview, he spends at least half the time explaining how the carrier worked to keep its crews safe. It has employed nurses, opened testing facilities and has developed a "very stringent" test and trace system. It is extremely wary of flying to infectious places, and has spent a lot of time working out how to do safe crew layovers. And it designed its schedule, in part, based on data coming out of John Hopkins' coronavirus research centre.
And then there is the PPE: Cargolux joined in the with the rush of governments trying to procure PPE – a race it won.
"I thought about PPE early and, through our connections and people in China (Cargolux is 35% owned by Henan Civil Aviation Development and Investment Co), we identified suppliers and placed orders. It wasn't an easy task. But I am proud to say we procured sufficient PPE for all those doing daily operations. We sent others home, and invested in laptops and a lot of security for the network, we were particularly worried about cyber attacks."
It wasn't only Cargolux's staff who benefited from its procurement of PPE. The carrier also ended up supplying its handling agents and other at-risk people working with the airline.
Last year was clearly a trying one, even it is was exceptionally profitable. But with protocols now in place and a familiarity with the new world, Cargolux looks set to have another strong year, adding to the depth of its coffers.
"It's going to be pretty solid," believes Mr Forson.