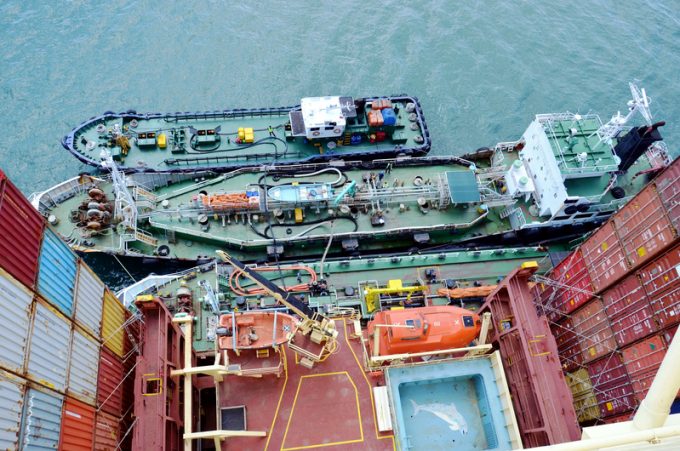 As oil prices spike to multi-year highs of $80 a barrel, ocean carriers are preparing to dust off their bunker surcharge mechanisms to mitigate the impact.
Although several carriers, including CMA CGM and Hapag-Lloyd, have capped further FAK rate increases, surcharges were specifically excluded from their rate moratoriums.
Rotterdam-sourced LSFO (low-sulphur fuel oil) increased a further $4 yesterday, to $560 a tonne, having jumped 20% since the end of August.
This increase alone will add over half a million dollars of cost to an Asia-North Europe round trip, and carriers believe that, despite the currently high freight rates, they must take action to keep their costs in check.
The container lines are being locked into long-term charter parties by shipowners with huge increases for daily hire rates and are also facing substantial demands from feeder and barge operators with haulage and rail services, among others, also seeking price rises.
Increases in marine fuel costs have traditionally been recovered from shippers, albeit that prior to IMO 2020, bunker surcharges were often merged into the base rate. However, with the introduction of the 0.5% sulphur cap on marine fuel on 1 January 2020, the liner industry was mostly successful in recovering the extra cost of LSFO through various transparent surcharge mechanisms.
One carrier source told The Loadstar he thought implementing bunker surcharges across tradelanes would be "seen as justified", given the backcloth of substantial increases in oil and other energy prices.
"We mustn't lose track of our costs," he said., "Unfortunately, there is not much we can do about the escalation in ship hire costs, but we have well-communicated bunker surcharge systems in place that need to be reinforced."
Drilling down into the accounts of the record Q2 profits of the carriers, there were significant increases in bunker bills, only partly due to increased liftings, with, for instance, CMA CGM recording a 63% hike on the year before.
But the new BAFs will not be welcomed by the shipper community. However, it is a surcharge they might find more palatable than the string of other extras carriers have added to freight invoices in the past year, including peak season, equipment imbalance and congestion surcharges.
And the spike in oil prices has recharged the interest in scrubber technology, with the circa-$100 spread between heavy fuel IFO 380 LSFO offering carriers operating scrubber-fitted ships substantial savings on their fuel bills.
Meanwhile, with LNG prices sky-rocketing due to global shortages, The Loadstar has heard anecdotal reports of a number of LNG dual-fuelled containerships bunkering with LSFO. Several carriers, including CMA CGM, Hapag-Lloyd and Zim, have placed orders for LNG-powered dual-fuel vessels, regarding the gas alternative as a transition fuel towards decarbonisation.
CMA CGM has been the biggest advocate of LNG as a marine fuel – already operating several LNG-fuelled ships, and with a strategy geared towards operating 44 LNG-fuelled ships by 2024.
To hear more on insufficient capacity concerns, listen to this clip from the latest The Loadstar Podcast, from Vespucci Maritime's Lars Jensen