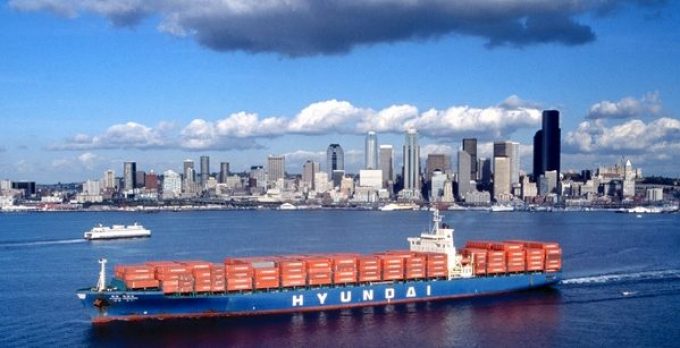 South Korean flagship carrier HMM has reported a $4.4bn net profit for 2021, compared with just $100m the year before, as sales more than doubled to $11.5bn in the bull market.
The carrier finally returned to the black in Q3 20 after 21 consecutive quarters of losses which brought the shipping line to the brink of bankruptcy.
HMM attributed the outstanding earnings last year to "higher freight rates", as well as its strategy of deploying mainly scrubber-fitted ships – more than 80% of its vessel capacity has scrubber technology, compared with an industry average of around 30%.
"The price gap between LSFO (low-sulphur fuel oil) and HFO (heavy fuel oil) is expected to widen," said HMM, adding that it would "be able to respond to rising oil prices effectively".
Indeed, the price of LSFO has increased in recent weeks, to around $680 per ton, compared to the rise in HFO to about $510 per ton, with analysts expecting the spread between the fuels to grow on the back of increasing oil prices, a reaction to global energy shortages and increased geopolitical tension.
HMM will see fuel cost savings from its scrubber-fitted ships operating with THE Alliance, as will its co-loading partners; however, it will also pay higher bunker costs due to its vessel sharing agreements when loading on the LSFO-burning vessels operated by other members of THEA.
HMM did not disclose its liftings for the year, but compared with THEA partners Hapag-Lloyd and ONE, its revenue appears to have grown at a faster rate, suggesting the carrier's average rate per teu was higher.
According to The Loadstar's freight forwarding sources, HMM, unlike some of its larger peers, is continuing to facilitate contracts with smaller-volume customers on the Asia to North Europe route, thus carrying a larger percentage of the more lucrative spot and short-term contract cargo.
Nevertheless, for the fourth quarter, HMM's revenue increased by 121% on the same period of the previous year, from $1.68bn to $3.7bn, on a par with ONE's increase of 122%, but significantly higher than Hapag-Lloyd's 104%. This could indicate that HMM signed-up more long-term contract business in Q4, thereby slowing its exponential revenue growth.
However, other factors could be at play, given that all carriers that have reported their liftings for Q4 so far saw declining volumes, attributed to supply chain congestion and a lack of open charter ships to cater for overflow cargo.
HMM deployed over 40 extra loaders last year, mainly on the transpacific, however several of these ships were subject to severe berthing delays at US west coast ports.
Since its state-funded restructuring, HMM has grown its capacity to over 800,000 teu and overtaken THEA partner Yang Ming to become the eighth-ranked container line. And it has an orderbook of 161,000 teu, which will take HMM within reach of its ambition to resume a role as a global carrier with a fleet of 1m teu.