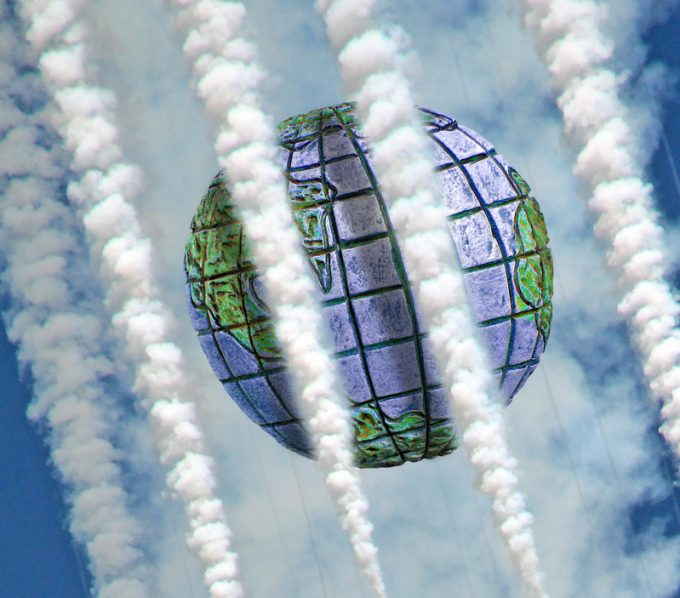 Shipping and aviation are worlds apart in the way the sectors are facing up to their emissions.  
Or rather, in the way others are making them face up to their emissions. 
IMO 2020, which dictates that shipping lines must use low-sulphur fuels, or install scrubbers from next year, is going to add some $15bn to liner industry costs.  
And this week came the news that a group of shipping finance banks are to consider climate action in their lending decisions.  
Momentum is growing. 
"There is a lot more awareness around the environment, and more demand for more information," Essa Al-Saleh, chief executive of Agility GIL, told The Loadstar this month. "It's not yet a tidal wave, but I'd say it was building.  
"IMO 2020 is a cost customers have to bear. It's starting to have an impact, and there'll be more." 
Next up, Maersk announced this week it would offer a carbon-neutral product, using biofuels. 
But what of air cargo? 
It has escaped the latest scrutiny, hiding behind IATA's pledge of an average improvement in fuel efficiency of 1.5% a year, from 2009 to 2020, and a cap on net aviation CO2 emissions from 2020.  
Discussions with airlines at Air Cargo Europe this month were disappointing. Emissions are not in the industry's sights in the way they are elsewhere – and airline emissions are, as we all know, significant. 
But airlines do not seem to be driving change. When asked, they have a simple, stock answer: "We have an ongoing programme of fleet renewal which shows our commitment. We are retiring our old 747s…and new aircraft are coming in," said one. "It's a huge commitment." 
And another: "We've got new planes, with almost 30% greater fuel efficiency. And our team is dedicated to reducing our footprint." 
Of course, some airlines are making efforts beyond their fleet. But most are buying new aircraft and jumping on the environmental bandwagon when, of course, the decision was made for other reasons.  
But carriers can't continue to cite new fleets for long – or really, even at all. It may be an improvement, but it is not carbon-neutral. And they certainly shouldn't be used as an excuse to do nothing else.  
Customers have some power in this arena. As one air cargo chief noted: "We do get some requests from customers for a demonstration of credentials, and if there was demand for us to do more, we would." 
And they should.  
Interestingly, on the same day the ship finance banks announced their move to use climate in lending decisions, air cargo association Tiaca set up a sustainability working group.  
What's noticeable is how significantly this differs from the box line challenges. Air cargo is just starting to look at sustainability.  
Shipping, in the full glare of the environmental lobby, is taking significant steps, even if they are not voluntary. But as customers – and consumers – become more and more concerned over climate change, aviation could find itself left behind. Rail is on the up, with its cleaner footprint and faster transit times than sea freight, and will be snapping at air cargo's heels.  
While some airlines are investing in biofuels, there is still much work to do. If the industry doesn't accelerate these programmes, it could find itself where shipping is now – highly regulated, facing a costly bill and with insufficient fuel to go around. 
And while biofuels and reducing aviation's enormous emissions would be the big win, there are plenty of smaller efforts that can be made. 
"We need to find ways to optimise the supply chain," said Mr Al-Saleh. "Better consolidation, less packaging, closer to end markets, just-in-time. There are various ways you can do it – and each also reduces financial cost.  
"We had one instance where the customer seemed to need two aircraft – so we repackaged the shipments, got them on one aircraft and then repackaged the way they had wanted it. There was a little bit more handling involved, but there were savings." 
On the apron, at warehouses, trucking, waiting times, packaging – there are numerous ways for airlines to start reducing their footprint in a meaningful way.  
It's one small step towards what will have to be a fast-moving plan if aviation wants to continue to be relevant to its customers, and in charge of its own destiny.