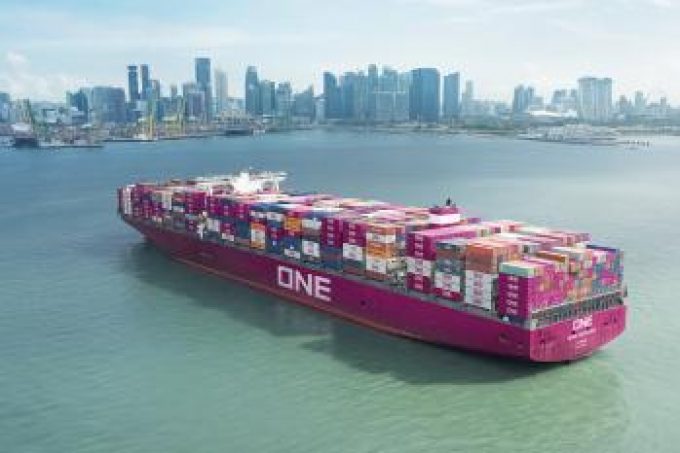 Asia-Europe ocean carriers are preparing for a market share battle by lowering their FAK rates from 1 April, and the new Japanese merged entity, Ocean Network Express's (ONE's) shippers are on their radar.
This week, CMA CGM published new FAK rates from Asia to North Europe of $900 per 20ft and $1,700 per 40ft for 1 April.
The French carrier's FAK rates for March are $1,050 per 20ft and $2,000 per 40ft.
Rival carrier Hapag-Lloyd's new FAK rates on the same tradelane from 1 April are even lower, at $850 per 20ft and $1,600 per 40ft, a discount on its previous rates of $1,000 per 20ft and $1,900 per 40ft.
Hapag-Lloyd's move will exert pressure on it's THE Alliance partner, ONE, given that the Japanese line, which officially commences business on 1 April, is quoting significantly higher FAK rates of $1,600 per 20ft and $3,100 per 40ft from Chinese ports to North Europe.
Meanwhile, carriers will be concerned that they have failed to put a halt the traditional post-Chinese New Year decline in spot rates, which have now fallen for the third consecutive week.
Today's Shanghai Containerized Freight Index (SCFI) index was down 7.4% on the week, with all the major trades seeing declines.
From Asia to North Europe container spot rates fell by 6.3% to $741 per teu, and for Mediterranean ports there was a drop of 5.1% to $665 per teu.
Transpacific carriers also had a bad week with a further softening of rates from Asia to the US. According to the SCFI, spot rates from Asia to the US west coast ports tanked by 11.1% to $1,016 per 40ft, with rates for the US east coast down by 7.9% to $2,009 per 40ft.
Sources are suggesting that rates on the route will soon crash through the watershed $1,000 and $2,000 per 40 ft level for the US west and east coasts respectively.
Alphaliner said this week it expected spot rates to "fall further in the coming weeks, as carriers prepare for a flux of new capacity in April".
The consultant noted that SCFI spot rates had already fallen by around 17% from their February peaks. Indeed, spot rates were also softer on secondary trades this week, with the Asia to West Africa component of the SCFI plunging by 13.6% and Asia to the South American west coast rates suffering a slump of 16.1%.
Analysts have warned that the Latin America route will be the prime battleground for carriers this year, following an alliance restructuring caused by Maersk's acquisition of Hamburg Sud, which has resulted an 18% capacity spike.
Alphaliner calculated that weekly capacity on offer on the route would reach 84,000 teu from April, compared with 71,000 teu a year ago.