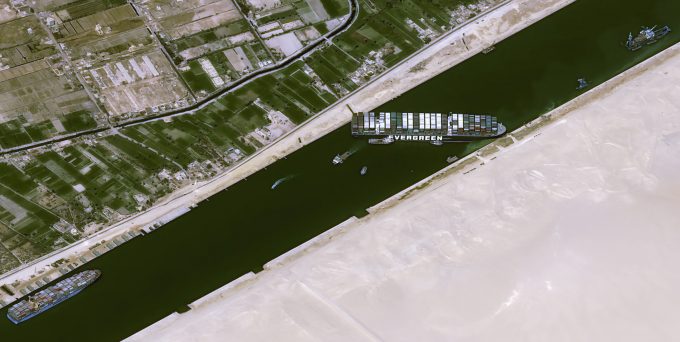 The Suez Canal Authority yesterday formally arrested the Ever Given.
An Egyptian judge granted permission for the SCA to seize the vessel after it lodged a $916m compensation claim against its Japanese vessel owner, Shoe Kisen.
The SCA says it intends to maintain the vessel's arrest until the claim is paid, a position that has caused fury among the ship's insurers and ship managers, and led charterer Evergreen to investigate whether it could use a court order to treat vessel and cargo separately.
The SCA claim includes $300m for salvage and $300m for "loss of reputation", which appears set to be rejected by the vessel's insurer, the UK P&I Club, which revealed it had already made a compensation offer to the SCA this week.
It said: "Despite the magnitude of the claim, which was largely unsupported, the owners and their insurers have been negotiating in good faith with the SCA.
"On 12 April, a carefully considered and generous offer was made to the SCA to settle the claim. We are disappointed by the SCA's subsequent decision to arrest the vessel today.
"We are also disappointed at comments by the SCA that the ship will be held in Egypt until compensation is paid, and that its crew will be unable to leave the vessel during this time. The SCA has not provided a detailed justification for this extraordinarily large claim.
"The grounding resulted in no pollution and no reported injuries. The vessel was re-floated after six days and the Suez Canal promptly resumed its commercial operations.
"The claim presented by the SCA also does not include the professional salvor's claim for salvage services, which owners and hull underwriters expect to receive separately. The P&I aspects of the claim are relatively modest, with the exception of a claim for loss of reputation, which is disputed."
Ian Beveridge, CEO of the vessel's manager, Bernhard Schulte Shipmanagement (BSM), also voiced his concern over the arrest.
"The SCA's decision to arrest the vessel is extremely disappointing. From the outset, BSM and the crew on board have cooperated fully with all authorities, including the SCA and their respective investigations into the grounding.
"This included granting access to the voyage data recorder and other materials and data requested by the SCA," Mr Beveridge added.
Evergreen said it had begun to look at other ways to free cargo trapped on board, adding: "In order to lift the arrest order as soon as possible, Evergreen is urging all concerned parties to facilitate a settlement agreement to be reached.
"Meanwhile, Evergreen is investigating the scope of such a court order and studying the possibility of the vessel and the cargo on board being treated separately," it said.
BMS said the Ever Given's classification society, the American Bureau of Shipping, had completed its inspection following the incident and it had "been declared suitable for onward passage to Port Said, to be assessed again before departing for Rotterdam".