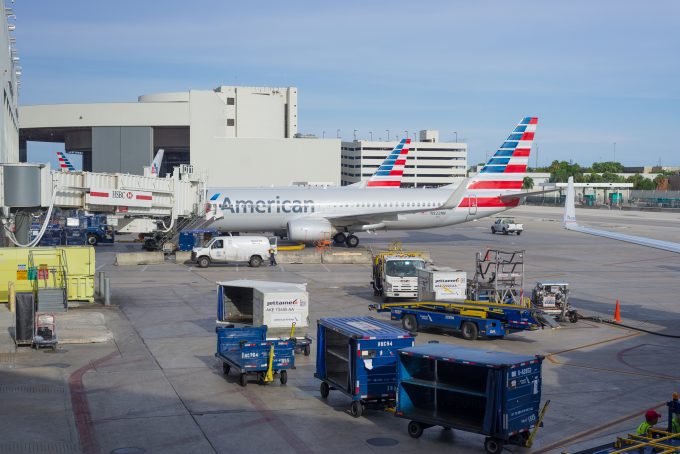 American Airlines Cargo is expanding its reach into Africa with an offline service, in a bid to strengthen its global network.
The carrier launched a partnership with HAE Group last year, and has steadily been attracting customers to ship between Africa and its northbound services from Sao Paulo.
HAE recently acquired South African air freight wholesaler Groupair, adding clout to the partnership.
The main route operates on South African Airways from Johannesburg into Guarulhos, Sao Paulo, and from there the freight has an option of three flights a day on AA's widebody network into Miami: into JFK, LAX and Dallas Fort-Worth.
"We created a classic GSA set up in Johannesburg, with a slightly different model in the rest of Africa," explained Richard Hartmann, regional sales manager for AA Cargo.
"We have identified 10 markets where HAE has a presence, with some metal and operations and partnerships, particularly with Ethiopian Airlines.
"We were looking at exploiting NGO, project, oil and gas and diplomatic cargo, as and when it moves," he added. "This is very much on a transactional basis – we are not expecting consolidations  on a weekly basis, but the fact is we have a presence and can offer services. For example with US forces in Djibouti we can offer a relocation service through the Middle East and back into our network in Europe."
The majority of the freight, however is moved through Latin America.
Mark Janse van Rensburg, HAE general manager for sub-Saharan Africa said: "Everyone else is going through Europe, but there is high yield cargo through Latin America. AA has a lot of available capacity from Sao Paulo, and SAA has been really good and moved a fair amount of shipments."
He added that it could take some time to crack the market with an offline operation.
One major African customer of the service told The Loadstar he liked to "keep an eye" on airlines selling into Africa.
"They tend to come and go – and if they go I can no longer keep commitments to my customers."
But Tristan Koch, AA's managing director cargo sales for EMEA, said that AA was planning to stay – and had good offline experience elsewhere.
"We had a flight from Delhi to Chicago for a number of years, that was a very successful route while we were online. We retained a huge amount of customer loyalty in that market through an offline proposition – and I don't see Africa any differently.
"We didn't start with a flight, but we are building a base of business up here, so if we ever do put a flight in we are ready to go.
"We are a global brand with a global customer base – they expect you to have a presence in all the key markets. So our global customers in particular are very pleased we have come into Africa to give them an additional option out of this market.
"We didn't just come here on a wing and a prayer – we researched it very thoroughly, chose our partners very carefully and know there is a market we can tap into."
Delta is the only US carrier with a presence in Africa, but is limited on cargo space owing to the height and heat of Johannesburg, which limits uplift. One source in Johannesburg indicated that the carrier had found the route difficult.
But if the arrangement is a success, it could help AA put its own flights into Africa, where there appears to be reasonably strong demand from the US.
"Cargo revenues can account for up to 25%, so if it's marginal whether AA comes to a market, then we can put that money in the pot which might make a positive decision for new routing," said Mr Koch.
"For a long time everyone said 'look at Africa', added Mr Hartmann.
"It has a very young population and is a more sophisticated market than people think. It's also a very innovative market and we have put ourselves out as being an innovative carrier, so why not? It makes perfect sense."