Network airlines should forge new partnerships and embrace data sharing to avoid missing out on the global e-commerce revolution, delegates heard at Air Cargo China in Shanghai last week.
"Traditional cargo is being replaced by e-commerce cargo. It has a huge volume impact and we see that every day. If we don't do anything and we don't change then we'll miss out," said Alain Guerin, Swiss WorldCargo's head of marketing.
He added: "We remain an airport-to-airport business. In order to capitalise on e-commerce we need to partner up with the people that share our vision for the seamless first- and last-mile logistics promised by retailers."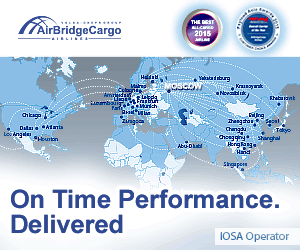 To make this e-commerce vision a reality, Mr Guerin said SwissWorld Cargo is "prototyping" a new partnership with Swiss Post. The two companies will soon begin testing deliveries between Switzerland and China.
"We're teaming up with Swiss Post because they have the best local network. We're seeing how we can really cooperate – a traditional network carrier with a postal organisation – considering our different processes, constraints and requirements. And it's not just about processes, it's about IT and the information flow," Mr Guerin said.
Anne Marie MacCarthy, IATA's head of cargo industry management, said national postal services and airlines were natural bedfellows.
"Many airlines are saying they lack the infrastructure to do the last-mile so partnering up with post offices makes sense commercially.
"In today's market the people with the infrastructure in place to get deliveries to end-users is most likely the post offices. They are shipping far more than they used to and in some cases taking over the role from freight forwarders. The scale and scope of their business is changing."
University of Antwerp transport and economics professor Dr Wouter Dewulf said airlines are already missing out on e-commerce volumes.
"Airlines are definitely missing out when it comes to e-commerce. It's a bigger challenge and threat than 3-D printing or modal shift. Some airlines are focusing on it but many others aren't," said Dr Dewulf.
He continued: "Most airlines have the idea they're a subcontractor for integrators. But this is a danger because if you look at what's happened in the US, you see the airlines have lost the business – 80% of domestic air cargo is flown by FedEx or UPS, while the traditional airlines are losing out. This is why Amazon is investing in its own fleet."
For Jonas van Stekelenburg, Amsterdam Schiphol Airport's cargo director, the key to e-commerce is cooperation, and specifically data sharing.
"Everyone has their own data centre – the shipper, the handler, the trucker, the airport, the airline – and this is one of the first problems. If you really want to achieve omni-channel logistics, you have to use one data-set between all parties.
"Everyone now has to make a bet – who's going to work with whom and who's going to share with whom? That's a very big question and a difficult one.
"FedEx and UPS did a very good job from the eighties until now and they won. Now there's a new game with e-commerce and it has new rules. I wonder whether, with these new structures and new costs, the integrators will be the winners in 10 years' time. I don't know but I doubt it a little bit."