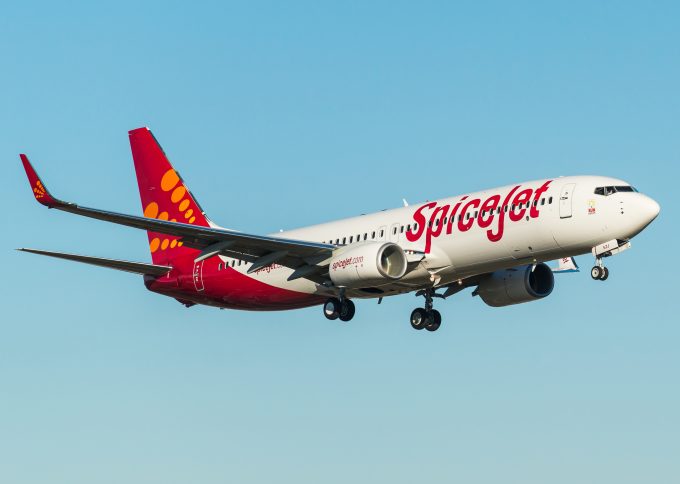 Newfound confidence in air freight after a bumper 2017 and surging e-commerce sales, is seeing more passenger airlines look to freighters.
Spicejet, a low-cost Indian passenger carrier, is to receive its first freighters this month, 737-800BCFs, according to Business Standard.
An official said the carrier would start operations between the metro cities and gradually evolve to offering international destinations.
The plan, first mooted in 2015, is ambitious: SpiceJet said it had two 737-800s undergoing conversion to join the fleet this month, but plans to have a 20-strong freighter fleet by 2022. It has 28 737-800s in its passenger fleet.
Cargo carriers have found India a tough market to crack. ASL's QuikJet Cargo struggled to attract integrator partners and was stymied by regulatory issues. Jet Airways appears to have moved away from the idea of operating freighters and last year signed an agreement with AF-KLM Cargo. A source at the airline told The Loadstar recently the economics of a freighter operation for Jet simply didn't work.
DHL subsidiary Blue Dart Express remains the most successful freighter operator in India.
However, the challenge of operating freighters in India has not put off its flag carrier. Air India's cargo boss, Abhay Pathak, told Asia Cargo News the airline was looking to charter a 747 freighter for daily services to Europe and the US.
The carrier is looking to increase tonnage from 250,000 tonnes a year to about 350,000 tonnes within a few years.
The indebted airline, due to be privatised but failed to attract any bidders, is also hoping to attract higher-yielding cargo, such as pharmaceuticals.
"There is a need for an Indian carrier like us to use freighter aircraft to change the paradigm," said Mr Pathak.  "Belly space can only satisfy the requirements of the market up to a certain extent, but not beyond that."
"To be honest, freighters are the need of the hour for us. The only thing is, the organisation has to make a call on when and how we'd like to go about it.
"We can really use them for places like Hong Kong and Shanghai, as well as connecting Dhaka and Colombo to the US. We can play a very big role with a hubbing operation. The requirement will not be less than a daily 747 freighter to Europe and the US."
It's not only Indian airlines looking to capitalise on a freight boom.
Philippines low-cost carrier Cebu Pacific has signed an agreement with IPR Conversions to convert two of its ATR72-500s into freighters. The first is due to be delivered in the fourth quarter to Cebgo, a low-cost sister carrier to Cebu Pacific.
"We will be able to offer cargo capacity that no other carrier in the Philippines can provide," Lance Gokongwei, president and CEO of Cebu Pacific, said.
"With the freighter aircraft, we will further support the growing needs of the logistics industry, especially as the Philippines' e-commerce businesses expand rapidly and look for faster delivery schedules."
New carrier Air Belgium is also considering launching freighter operations, according to Cargo Forwarder.
Meanwhile, Lufthansa Cargo has taken advantage of a strong 2017 by ordering two new 777 freighters. Set to be delivered in February and March, the plan is to phase out the carrier's MD-11F fleet to become a pure 777 freighter operator – although the MD-11s will continue to operate in the current favourable market conditions.
"This major investment in the future of Lufthansa Cargo has been made possible by last year's outstanding results," said Peter Gerber, CEO and chairman. "This is a fitting reward for the tremendous efforts of all Lufthansa Cargo employees and emphasises that we have taken the right course at an early stage."