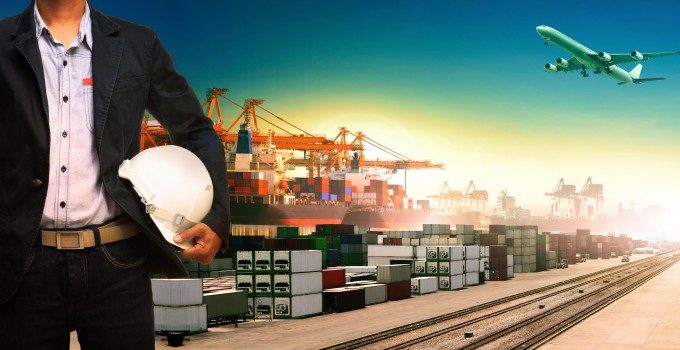 Most Loadstar readers probably don't know what it's like to go on a press trip. Generally speaking, they are worth missing. A long day spent with colleagues and competitors, keeping the big stories to oneself, listening to a company attempt to look open and transparent, while it too, tries to keep the big stories to itself.
However, sometimes it is the only way to talk to a company at all. Which is why The Loadstar found itself on yet another flight, this time purportedly to celebrate the arrival of AirBridge Cargo's second 747-8F in Frankfurt, on a flight from Krasnoyarsk.
Of course, no one cared about the aircraft. It was big, and shiny, and new, and full of cargo. There was a band, and a cake, and the traditional firemen's salute. You all know the drill.
What, of course, was more interesting were the attendees; Alexei Isaikin, Tatyana Arslanova, Wolfgang Meier, and Air Cargo Germany's Michael Bock, among others. (Regular readers will understand that for The Loadstar, which has written extensively (and perhaps a touch sharply) on this story, it was a little like being in a hornet's nest.)
And so to the press conference. First, the introductions. In which Michael Bock, the founder and 51% shareholder of Air Cargo Germany, was (mistakenly?) introduced as the 'acting' CEO of Air Cargo Germany. (He later explained to The Loadstar, having in an unguarded moment already introduced himself as the "little boss" to Isaikin's "big boss", that this wasn't the case, he is full CEO, and that there would be no management changes at Air Cargo Germany. As a minority shareholder, without effective control of course, Volga Dnepr is in no position to make any such decisions.) A peculiar slip of the tongue by Mr Meier, nevertheless.
Then the presentation, setting out the goals for 2030, the performance in 2011. There is a new route to Chicago, ex-Frankfurt, and a new destination in Zhengzhou plus a Go West policy in China that will also take in Chengdu and Chongqing, later in the year. The Russian Far East is set to be a driver of growth, following the acquisition of Atran, (which Mr Isaikin hopes will become an express feeder service). The last two Classics in the fleet are to be phased out. ABC will grow in Germany, (especially now it effectively has the fifth freedom rights it so desperately wanted.) 2012 will see a focus on training in Russia, the group will look to achieve more synergies between the scheduled and charter business, there will be fleet development in partnership with United Aircraft Corporation with new orders for the AN-124, and the group will develop strategic partnerships with airlines such as Antonov and ACG.
And so to the questions. What we all came for.
How would Air Cargo Germany be integrated into ABC, asked a colleague. "Specifics, please," he added.
"We have submitted a plan to the German authorities and have started to execute a synchronisation of the schedules. It's a step-by-step approach," came the very unspecific answer.
Would ABC be affected by the night flight ban? (And here came the dig at ABC's German nemesis, LH Cargo.) "Someone," said Mr Meier, "has been very good at making their own problem into a common problem. But we have never been allowed to operate at night in FRA."
What about the deal with ACG – any details? "We have bought into ACG with a 49% share. That's it."
When pressed further, Isaikin, through his translator, helpfully added that he couldn't say any more. "The main thing is that the deal came about," he said. "We were concerned about whether we would be able to, but that's a thing of the past. We are negotiating with the management of the two companies, and looking at the harmonisation of the routes. In the next month, more synergies will become clear. Synergies are the most important thing we can provide our customers with."
He added that ACG would provide shuttle flights between Frankfurt and Moscow, and also to North America and Mexico, using both Hahn and FRA. "ACG will keep its presence in Hahn – as far as we, a minority shareholder," emphasised Mr Meier, "can see."
Mr Bock added that the new schedule to Chicago has begun, and later suggested that ABC might withdraw one of its flights per week into AMS, to focus on Germany. And that there could be a code share and interline arrangements between the two airlines.
No one would be drawn on when the ACG deal actually took place, or how much money ACG had lost. "It's common knowledge," said Mr Meier. "It's in the German company register." (Actually, The Loadstar took a look, and can only find the accounts for 2010, which you can search for here in German and you can cut and paste it here for the English version.)
Mr Isaikin said that he didn't expect a profit this year as the group had been investing heavily, particularly in ABC and the modernisation of the AN-124. "We are hoping to be profitable in two or three years from now," he said.
Finally, The Loadstar asked whether the Russian government's decision to deny some traffic rights to European carriers would harm airports and other service providers in ABC's home market – which Ms Arslanova had already said needed to be more efficient. "We understand that the government is trying to follow the balance of the bilaterals. More flights would allow us to develop the infrastructure," she agreed. And how much did the group stand to lose when the overflight fees are no longer paid to domestic carriers after Russia's accession to the WTO? Ms Arslanova ducked nicely. "The WTO accession will help us see huge benefits. Competitors will be helpful to us and will help develop airport infrastructure faster."
And that was that. The press marched off back to the airport, the customers and friends of Germany's second largest cargo carrier went to dinner to celebrate strengthening Volga Dnepr's foothold in the German market.