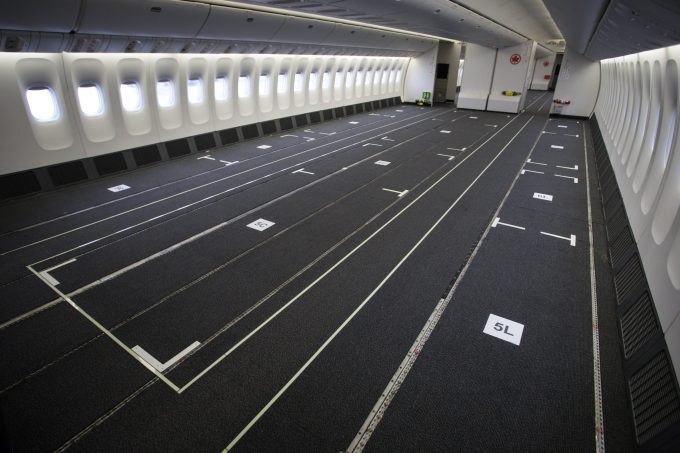 Like a growing number of airlines, Air Canada (AC) has fielded passenger widebodies on cargo missions in recent weeks.
Since 22 March, it has performed 40 such flights and now the airline has taken the cargo application one step further: it is reconfiguring three B777-300ERs to use their main deck for cargo.
The aircraft are being converted by aircraft maintenance and cabin integration specialist Avianor, which will remove 422 passenger seats and designate cargo loading zones for lightweight boxes containing medical equipment, restrained with cargo nets.
The modification, developed, produced and implemented within six days, has been certified and approved by Transport Canada.
The revamped set-up more than doubles the aircraft's payload to 89.63 tons and the first reconfigured 777 was ready for service on Saturday. The other two will follow in days, said Richard Steer, senior vice president – operations.
The first flight went to Shanghai via Tokyo, and returned to Toronto the following day. The next flight will also go to Shanghai, AC confirmed.
On top of its skeleton passenger network, AC intends to run 20 cargo flights a week. On 6 April, the airline began regular cargo flights to Shanghai with B787-9 aircraft.
At this stage, much of the cargo operation is focused on urgently needed equipment in the battle to contain the Covid-19 pandemic.
"Bringing critical medical and other vital supplies rapidly to Canada and helping distribute them across the country is imperative. The transformation of the Boeing 777-300ERs, our largest international widebody aircraft, will enable more goods to move more quickly," said Tim Strauss, vice president – cargo.
"We're going to bulk-load the 777s for now. Emergency traffic is volumetric," he added.
There is speculation that Air Canada could embrace a fully fledged conversion, which would involve cutting out a cargo door and reinforcing the floor. That would constitute an irreversible decision on the use of those planes. With the present set-up, it would take less than five days to revert them to their original passenger configuration, according to the airline.
Stan Wraight, president & CEO of Strategic Aviation Solutions International, thinks a full conversion is the way to go.
"They should do it. It only makes sense," he said.
Even without a full conversion, AC's decision to reconfigure three of its largest planes is a stark indication how its management views the prospects for the passenger business.
"The cargo business will come back in demand before the passenger business," Mr Strauss said. Pointing to depleted inventory levels and sharply reduced ocean capacity, he predicted strong demand for airfreight when economic activity around the globe ramped up again.
Lufthansa has come to the same conclusion. On Friday, the German carrier announced it would field more passenger aircraft for cargo missions, adding that "parts of the cabin interior of initially four Lufthansa aircraft" would be removed to boost cargo capacity.
Mr Wraight said: "All airlines will have to face the reality that leisure travel will tank for the next two or three years. Domestic US and Canada will rebound first, but international will take years."
Helane Becker, financial analyst at Cowen, said today it would take "three to five years for domestic demand to return to 2019 levels and four to six years for international demand to get back".
"We believe airlines will be 30% smaller at the end of his year than at the start of the year. Also, we expect there will be between 100,000 and 200,000 fewer employees at the end of the year." She added that US airlines would likely retire between 800 and 1,000 aircraft this year.
Under the circumstances, cargo appears poised to be the shining light in airlines' operations for some time to come, so more carriers may be inclined to follow AC's route. Given the severe cuts in belly capacity, cargo flights should command high rates. However, their financial woes could induce some carriers to be more focused on creating cash flow than profits.