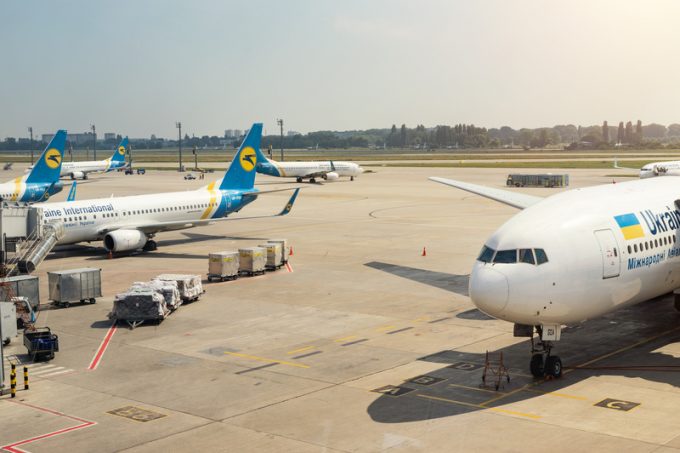 Airlines are re-routing around Ukraine following the invasion by Russia, while a Notice to Air Missions (NOTAM) was just issued for all Russian airspace, and most flights between Asia and Europe will need to be rerouted.
Airspace was closed early this morning, restricting aviation around Kyiv, Dnipro, Lviv, Odessa and Simferopol and there appear to be no commercial aircraft in Ukrainian airspace.
Ukraine International Airlines has suspended scheduled and charter flights to and from the country.
European Safety Agency EASA has warned that airspace in Russia and Belarus, within 100 nautical miles of the border, could also pose safety risks and that there may also be a cyber-attack on Ukraine's air traffic control. Russia has suspended some domestic flights from and to airports near the border.
But outside the immediate safety risks posed by war, air cargo is likely to see other disruption, as well as a likely immediate hike in security and fuel costs.
The main providers of heavylift, Ukraine's Antonov Airlines and Russia's Volga-Dnepr declined to comment, other than it was "business as usual". But, as Volga-Dnepr sent out a press release about its partnership with the Humanitarian Logistics Association, there were concerns that the Russian group, which includes all-cargo 747 and 777 operator AirBridgeCargo (ABC), could face sanctions and other issues, impacting its business.
At the end of last year, the US warned it could ban Russia from importing aircraft parts, a move which could affect Boeing operator ABC.
Russian airlines are also likely to be affected by sanctions imposed via leasing companies. If Russia is removed from the global banking system, aircraft lessors and their customers, which are mostly paid in euros or dollars, would be severely impacted.
CH Aviation has published a list of those lessors most exposed to Russian airlines. AerCap has 118 aircraft placed in Russia, while SMBC, Air Lease, BOC, Carlyle and Dubai Aerospace Enterprise (DAE) between them have roughly that number. AirBridgeCargo is known to have leases with the UAE's DAE among others.
The sudden plunge in value of the rouble could also hamper Russia's aviation sector, along with sanctions on Russian fuel companies.
Production lines at Boeing and Airbus, meanwhile, could be hampered by a shortage of titanium, much of which comes from Russia. However, the lack of demand for aircraft in the past two years, along with increasingly fractious relations with Russia, has seen manufacturers stockpile.
But it is early days. One Moscow-based aviation expert told The Loadstar this morning the city was in shock.
"No one expected this, and it's too early to tell what will happen."