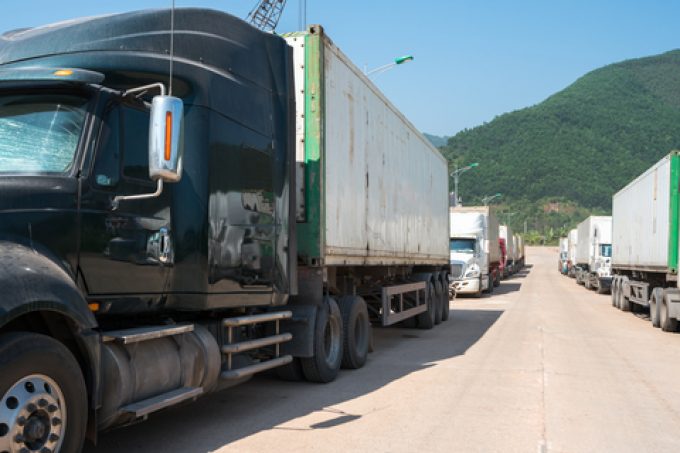 South-east Asia's cross-border road freight market has taken a hit from coronavirus lockdowns, but using rail to mitigate delays from tightened border controls is helping.
China-ASEAN road freight specialist Kart Asia, a subsidiary of Kerry Logistics, said border closures and lockdown measures caused truck trips to decline by half on some routes.
"This crisis has a great impact on road freight within ASEAN countries and China," said Tony Chai, Kart Asia's general manager.
"Some countries imposed measures such as only allowing essential cargo to cross borders, including the key Sadao (Thailand) and Bukit Kayu Hitam (Malaysia) gateway. Shippers must obtain clearance from government agencies."
But, Mr Chai said, medical shipments were helping replace some lost demand and volumes.
"Medical shipments between Myanmar and Thailand have helped absorb some impact on that core routing, which had dropped by 50%.
"And freight rates have increased, as some countries have more stringent rules for our trucks to go in and out, and of course quarantining drivers would mean we need more people to serve the tradelanes."
Another major congestion hotspot has been the China-Vietnam border crossing, between Pingxiang and Lang Son. Due to enhanced customs checks and screening of drivers, some 2,000 trucks were queuing to cross at one time, many carrying perishable exports from Vietnam, such as dragon fruit.
To cut down waiting time, Ceva Logistics has launched a truck-rail-truck (TRT) intermodal service, using the Pingxiang-Dong Dang railway.
The 3PL said customers sourcing urgent shipments from China for Laos, Malaysia, Singapore and Thailand could save up to four days on the delayed truck transit and also avoid regional air capacity shortages.
The operator said: "Shipments are picked up by Ceva across south and east China and loaded into 45-foot hi-cube containers. They are taken by truck to the cross-border train, which operates three times a day, and into Vietnam, where they are then loaded onto trucks and delivered to final destination."
Meanwhile, in a related development, Kuehne + Nagel announced today it would roll out its eTrucknow digital road freight platform in Singapore.
It was previously only available in Thailand, but Singapore-based shippers can now book domestic shipments, while cross-border trucks between Singapore and Malaysia will be available from the second half of the year.
K+N claims eTrucknow "streamlines and automates" the quotation comparison process for shippers and offers approved carriers the opportunity to convert empty space or trips into potential revenue.
The platform will also be launched in Malaysia, India, Vietnam, New Zealand and Australia this year, K+N said.