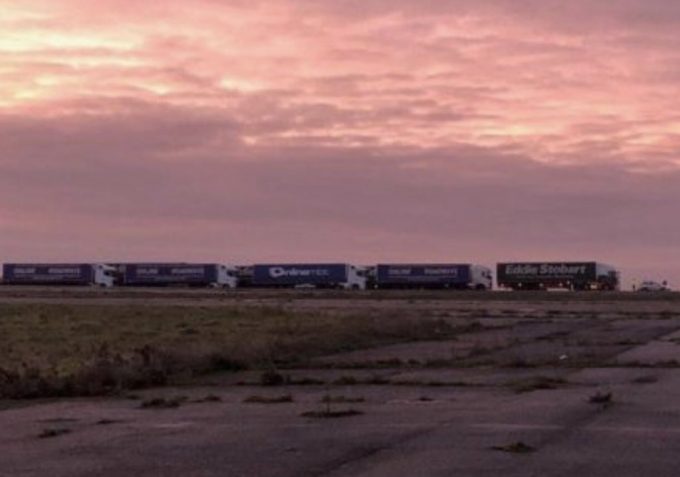 Stress testing Manston Airfield's ability to cater for truck congestion around Dover descended into farce today.
Less than half the number of expected lorries turned up – one a rubbish-collection truck.
Some 150 trucks were reportedly set to take part in the trial, however, that number plummeted to fewer than 80, with one source noting just 72 arrived.
"If another job turns up, that will take priority for drivers," the source told The Loadstar.
Social media erupted into laughter after pictures of the convoy were released, with one white rubbish truck among the HGVs.
Chief executive of the Road Haulage Association (RHA) Richard Burnett questioned the purpose of the trial, stating it was little more than "window dressing".
"Of course, it's good to have a plan in place, but today's limited-scope trial will need to be repeated to test other aspects of managing thousands of lorries properly," he said.
"Today's trial cannot possibly duplicate the possibility of 4,000 trucks being held at Manston in the event of a no-deal Brexit.
"It's too little too late – this process should have started nine months ago – at this late stage it looks like window dressing."
In a Department for Transport memo to Cliffsend Parish Council, published by The Isle of Thanet News, the DfT said it sought participation of up to 150 HGVs via the FTA and RHA.
However, an FTA spokesperson downplayed both associations' roles in sourcing these vehicles, stating they merely provided a list of haulier names in the south-east region.
One driver participating in the trial heaped further scorn, telling The Guardian the whole exercise was a "waste of time".
"They should have done it in rush hour. You can see the traffic here is just average. This is not what it will be like in no-deal," said Int Logistics driver Adam Carter.
Estimates have suggested traffic jams up to 20 miles long could plague the roads leading to Dover in the event of a no-deal Brexit and a return to physical customs procedures.
If those estimates prove correct, the test today was just a fraction of what can be expected on the roads. The 80 or so vehicles that did participate began leaving Manston at 8am in batches of 25, heading to Dover before returning at 11am.
The DfT has yet to respond to questions by The Loadstar on why so few drivers participated and what merit there was in running today's trial.