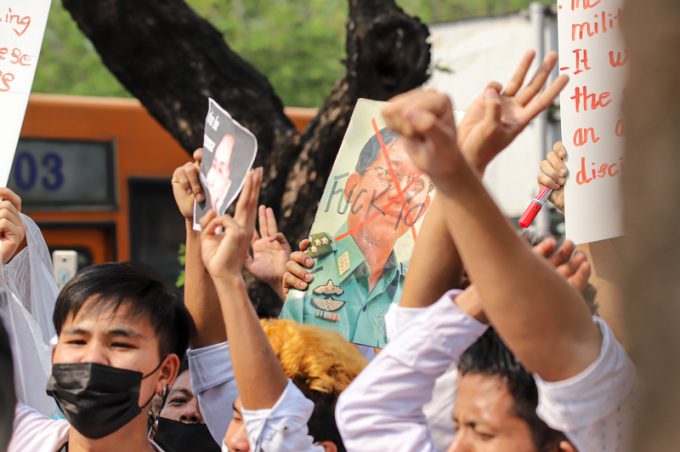 Mass political protests from an emerging civil disobedience movement has caused further freight disruption in Myanmar.
Following the military coup on 1 February, thousands of Burmese have taken to the streets to demand a return to democracy.
Local news reports and social media posts suggest an increasingly tense situation: there are violent clashes between protesters and police; internet blackouts; and arrests of journalists and protest leaders.
Now, many industrial associations have stopped cooperating with the new military government in solidarity, including the Myanmar Container Trucks Association (MCTA).
According to The Myanmar Times, on Friday 2,750 MCTA truck drivers "suspended operations indefinitely"  in support of the protesters.
The MCTA said: "The trucks will transport cargo deemed essential for the country and its people – such as medicines – but they have stopped running for other goods and materials. This is because the banks and ports are closed."
Yangon-based Care Freight confirmed to The Loadstar: "Everything is slowing down because truckers and customs clearance agents are joining the protesters.
"Some shipping lines have pushed back their vessel arrival dates, with delays of about three days at Yangon port."
Cross-border road freight is also being impacted by the protesting truck drivers. For example, Thai media is reporting a slowdown in trade flowing via the Thai-Myanmar Friendship Bridge on the Moei river.
However, Care Freight said the border with Thailand was "still OK", adding that the Chinese border had seen a bigger impact.
"It seems the China border has only 10% normal capacity, partly due to Chinese New Year, and at the Myanmar side, hundreds – if not thousands – of trucks are lining up waiting to discharge."
Meanwhile, cargo flights into South-east Asian nations have been a source of controversy since the coup began.
Most passenger flights were already grounded due to Covid-19 restrictions, but following the military takeover, Yangon International Airport was widely reported be be completely closed until May or June, including for cargo.
However, local forwarders have confirmed to The Loadstar there were a limited number of charter flights landing at Yangon earlier this month.
According to The Irrawaddy, protesters took to social media last week claiming five cargo flights from Kunming were carrying "Chinese IT technicians to help the Myanmar military build a firewall".
The China Enterprise Chamber of Commerce in Myanmar reportedly denied the "firewall" rumours, claiming the flights were regular cargo services carrying imported goods such as seafood.
Protesters have been gathering outside the Chinese embassy in Yangon in recent days, highlighting the Chinese Communist Party's long-standing ties with the Myanmar military and its failure to condemn the coup, instead labelling it an "internal affair".
On the other hand, newly announced US sanctions against Burmese military leaders could have widespread implications for the shipping industry, given the military's ownership of ports in the country.
For example, in October, human rights group Burma Campaign UK said Maersk would stop using Yangon's military-owned TMT Port, Hteedan International Port Terminal, and Ahlone International Port Terminal 1, following campaign pressure. The group also claimed it had pressured Liverpool-based Portia Management Services into not renewing its management of TMT Port.
India's Adani Ports is building a new container terminal in Yangon, on land leased from the Myanmar Economic Corporation, which is also owned by the military.
According to The Hindu Business Line, a spokesperson for Adani Ports said: "We are watching the situation in Myanmar carefully and will engage with the relevant authorities and stakeholders to seek their advice before deciding how to manage this project into the future."