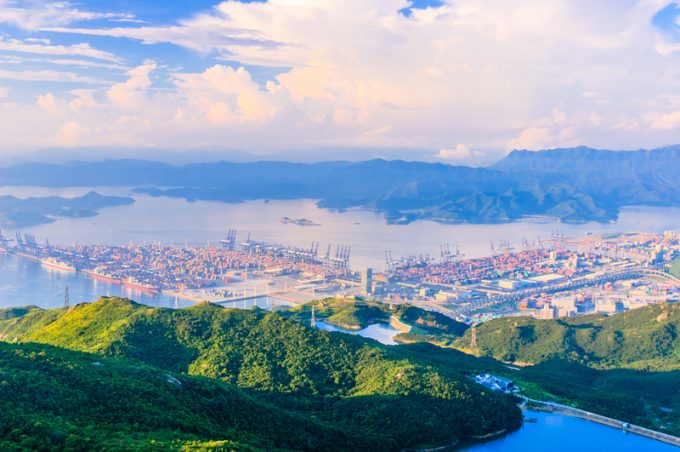 Severe congestion has resurfaced at Hutchison's Yantian International Container Terminal (YICT) in Shenzhen, prompting the port to stop accepting laden export containers last night.
YICT said: "Due to increasingly serious delays in vessel schedules, the container yard is now in high utilisation rate, which seriously affects the efficiency of terminal operations. This also causes traffic congestion around the port area."
Imports and empty container movements will carry on as normal, YICT added, with laden exports expected to resume on Friday.
However, YICT said only laden containers within four days of a vessel's estimated time of arrival would be accepted, until 3 June.
Several Covid-19 cases were reported at Yantian this week, resulting in suspension of operations at three of the port's 20 berths for disinfection. One Chinese agent said this had resulted in "insufficient manpower on duty".
The agent added: "Serious congestion has occurred at Yantian Wharf, and vehicles entering the port to drop off containers have lined up in the channel entering the wharf. The operation time of container return is severely delayed and ship berthing, loading and unloading are all affected to a certain extent."
A major export gateway in South China, YICT handled 13.35m teu last year, up 2.1% and the port is no stranger to heavy congestion, having suffered major truck queues just prior to Chinese New Year.
Australian forwarder Neolink warned customers the export suspension would "cause massive space and equipment challenges, not just for the port of Yantian but also for Shekou port, as, inevitably, shippers try to pivot and rebook/redirect cargo."
Neolink recommended shippers with critical orders planned for sea freight in South China over the next two weeks should start considering air freight options.
"We anticipate this will start to put more pressure on already forecasted increases to shipping rates, not just for sea freight, but also for air freight, as supply chains try to move goods that cannot afford to be caught in the congestion," the forwarder said.
Indeed, Stefan Holmqvist, MD of Norman Global Logistics Hong Kong, said many shipments were now facing extra transport costs ranging from $500-$1,000 to handle and reroute.
"It's complicated to manage the transport and traffic control," he told The Loadstar. "Also, the LCL terminals are affected too as the congestion has impacted the ability to get the containers to load, to and from the yard."
According to Worldwide Logistics Group, the slow turnaround of vessels at destination ports is the main culprit playing havoc with shipping schedules.
"Space continues to be in short supply," said WLG president and CEO Joe Monaghan. "The slow turnaround of vessels due to port delays caused by congestion results in unscheduled blank sailings at a time when we need more sailings, not fewer."
Willy Fong, the forwarder's MD in Asia, said WLG expected "at least one blank sailing a week" in June, from Yantian and Hong Kong to the US west coast.
He added: "Space will be cut by half, with some carriers only releasing premium service containers and very little FAK [freight all kinds] cost container space availability.
"Carriers have not announced blank sailings from Shanghai and Ningbo, but if the vessels are not able to return from the US, that will force them. The same situation holds true in South China."