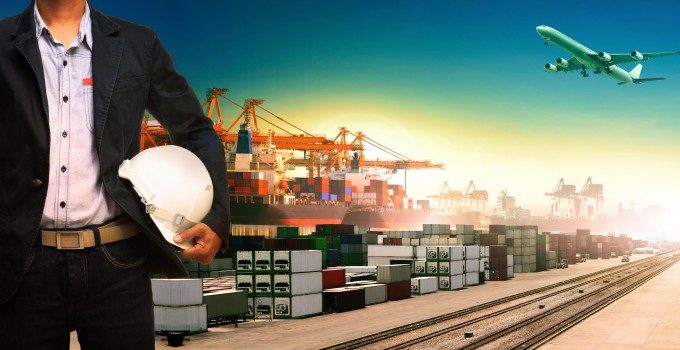 London: Olympic fever has hit the capital. There is no getting away from it. Especially in The Loadstar's office, which is placed centrally, near the giant Olympic rings hanging from the iconic Tower Bridge.
So we thought we'd do a story on Olympic freight – what forwarders and carriers have been bringing in, what role logistics companies have played in delivering "the greatest show on earth".
But, unhappily, our quest for an Olympian supply chain narrative has come to naught. Or rather, we find ourselves in a peculiar Orwellian world, framed by Newspeak, the fictional language of the novel 1984; in essence, 'a deliberately impoverished language promoted by the state'.
Let me explain. You may have heard that the Olympic sponsors (who of course paid substantial sums to put on the Games), have been keen to protect their investment. Meaning that other companies are not allowed to commercialise the Olympics (a sad state of affairs for a country that has fallen into a miserable, chronic recession).
The organising committee, Locog, has been pretty zealous about policing this. A Stratford cafe, long called Cafe Olympic, had to be renamed Cafe Lympic. A butcher was ordered to remove sausages from his window, which were styled as Olympic rings. The same for a bagel maker. The head of the organising committee, Lord Sebastian Coe, said on national radio that people wearing 'Pepsi' t-shirts would not be allowed into the stadium (which is sponsored by Coke), and Nike trainers might be banned (to please Adidas). It goes on. The length and breadth of the country has been scoured for any reference to the Olympics in shop windows, products, promotions. (Incidentally, the sponsors contributed some £700 million of the £11 billion needed for the Games. Greater London authorities contributed £925 million. Individual companies, such as London delivery firm DPD, have had to invest more than £1m just to be able to keep their businesses going during the congestion.)
So when The Loadstar started to ask freight forwarders what role they had played in the Olympics, there was a problem. Although facts relating to the Olympics are allowed to be published by journalists, companies are not allowed to promote or market themselves that way. One PR sent us the letter from Lord Coe. Banned words include the obvious, plus combinations of 'Games', '2012', 'Two thousand and twelve', 'Olympix', 'medals', 'sponsors', 'gold', 'silver' and 'bronze'. And, the letter helpfully adds: "Although the Listed Expressions are a helpful guide they are not the only thing a court would look at so it shouldn't be assumed that if a Listed Expression is not used LOCOG's right will not be infringed."
The PR adds in his email: "Journos can write what they want. However, the company can't tell you anything that it has done to do with the Olympics – so how you'd find out about it and get any information you need is the difficult part…we'd be in trouble."
The protocol also states: "Except to confirm that they are a supplier, suppliers should not respond to media enquiries about the work they are undertaking on the Games, or provide any quotes or comments without first speaking to the London 2012 Organising Committee about this."
(Not every company seems aware of these rules. In comes a press release with the prison-inducing headline: Faster, higher, stronger: delivering record-breaking XXX [name deleted to protect them from themselves] for London 2012.)
This all, ultimately, means we can't tell you how the turf got to the stadium, or the souvenirs from China to London's shops. We certainly can't talk about the artwork being delivered tomorrow. And we probably shouldn't mention the deliveries to the Olympic village.
Ironically, we can talk about the official logistics provider, UPS, who is at liberty to tell us its stories. Sadly, the best stories we have on UPS we are unable to disclose to protect our sources – there is a cracking tale of a logistical cock-up to be told, at some point in the future.
But we can reveal that a delivery of flowers to a Team GB hockey player had to be transferred from one logistics provider to UPS, the only logistics provider allowed in the Olympic village. "This meant that the delivery costs were more than the cost of the flowers," said the company who cannot be named. "Let's hope that she got them and likes them."
In other freight-related Games news, the Olympic Route Network has been the subject of much discontent, not least by taxi drivers who were even prepared to throw themselves off Tower Bridge in protest (see below). There has been some "pointless disruption" before the Games, confirms Steve Woodman from DPD. "The response from Transport for London was that they wanted to reduce the flow of traffic before the games lane began. I still don't understand that one."
The ORN, as it is unaffectionately known, is 109 miles of roads within London, and 170 miles of road outside London, which can only be used by Olympic officials, international media (of which there are, apparently, some 21,000 in London at the moment) and VIPs. Of those 109 miles, some 30 are also available to the actual stars, the athletes. Parking bays, right hand turns, cycle lanes have all disappeared. DPD has already got 40% of its new routes running, and has deployed 80% of its 'driver helpers' which deliver on foot so drivers can stay with the vans.
Further titbits:
*After one solitary week of glorious sunshine, the UK weather has switched back to light rain, just in time for the opening ceremony. The odds on it hailing, however, have lengthened.
*Plans for the opening ceremony have been hugely secretive. But we do know it involves 70 sheep, 12 horses, 10 chickens and three sheep dogs. Oh, and cricket.
*Prince William's wife's family was admonished by the brand police for mentioning the Games on their website.
*Police in other parts of Britain must be as rare as e-air way bills – they are all in London, and being fairly aggressive.
*The Olympic torch travelled by neon-lit speedboat down the Thames, late at night – five times. We know because we saw it.
*Signs saying: "Lane closed" and threatening penalties of £130, are placed next to signs saying "Lane open to all".
*To compound the confusion, sponsor British Airways has an interesting sales strategy, with adverts saying: "Don't fly" and "Forget your passport".
We're off to see the torch arrive  at Tower Bridge. Have a great weekend, and whatever happens at the opening ceremony, please think kindly of Britain.