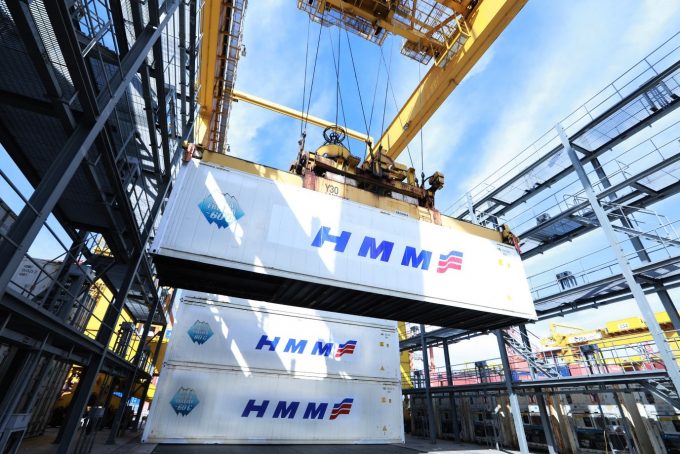 Speculation about SM Line's potential acquisition of its larger South Korean rival, HMM, intensified after the carrier and its affiliates purchased more HMM shares, raising the group's stake more than five-fold, to 5.52%.
SM Line is now HMM's third-largest shareholder, after state-backed financial institutions Korea Development Bank and Korea Ocean Business Corp, which held 20.69% and 19.96%, respectively, as of 31 March.
Yesterday, SM Line, also known as SM Merchant Marine, said it and affiliates had purchased the shares for around $646m, bringing their holding to around 27 million shares.
SM Line itself now owns over 16.47m shares, 3.37% of HMM, while its affiliates' holdings are: Korea Shipping Corp (2.35m shares); SM Hi-Plus (2.04m); Woobang Construction (1.09m); STX Construction (1.06m); Korea Line Corp (715,000); Samwhan Corp (700,000); TK Chemical (440,437); Samra (328,269); SM Industry (185,209); Dong Ah Construction (168,000) ;and Keangnam Enterprises (112,934). Woo Oh-hyun, chairman of SM Group, whose core business is construction, owns 1.29m HMM shares.
A spokesperson for SM Line told The Loadstar the purchase was purely an investment play, adding that the company is not considering relaunching the IPO that was suspended in November. HMM declined to comment.
SM Line began buying HMM shares in December and purchased more in April, accumulating a stake of 0.99%.
The SM group has become known as something of a 'white knight' in the shipping industry, having acquired Korea Line and Korea Shipping Corp (formerly Samsun Logix). SM Line was formed in 2016 after the group acquired the remaining business of bankrupt Hanjin Shipping.
While KDB chairman Lee Dong-gull has said the bank is "inclined to dispose of its holdings in HMM", newly appointed minister of oceans and fisheries Cho Seung-hwan claimed last month would be "premature" for the state to release its grip on the flagship carrier.
Covid-19-related logistical bottlenecks brought record profits to the liner industry in 2020 and 2021, while 2022 is expected to be another good year. However, Mr Cho said the logjams had distorted the actual supply-demand picture.