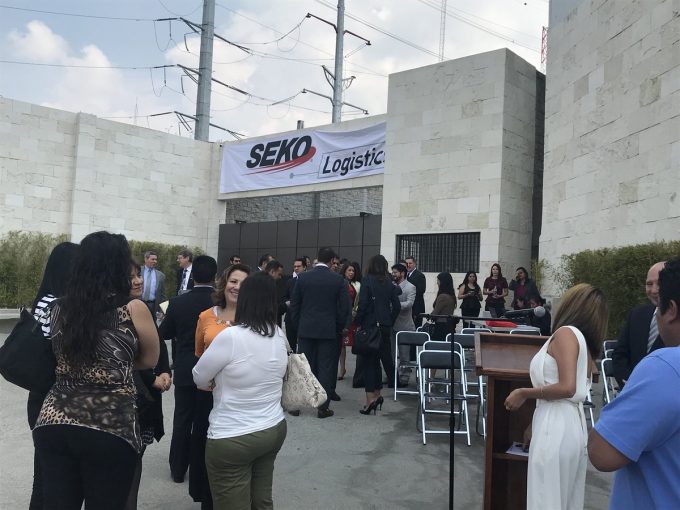 SEKO Logistics is looking to capitalise on its growing automotive business with a significant expansion into Mexico.
At the start of the year, it announced a "watershed expansion" – and the Mexican venture appears to be the first step.
It's an ambitious move; the first phase will see it operate from six locations, while phase two will take this up to 20. SEKO inaugurated a 10,000sq m distribution centre (below) in Ocoyoacac yesterday.
SEKO has become known recently for its growing e-commerce operations, but this move not only adds to its online and physical retail business, but also to its aerospace and automotive operations.
"Retail will be a focus, especially for e-commerce as well as retail store fixtures logistics," marketing manager Brian Bourke told The Loadstar.
"The Mexican consumer is, on average, slightly younger and they are becoming more savvy shoppers, with the same demands as in other global markets."
Mr Bourke added that the company would also offer final-mile and 'white glove' delivery for store fixtures, hi-tech, medical devices and trade shows.
"However, there will be also a focus on automotive and aerospace," he said.
"We are growing in automotive clients in Detroit, Nashville, Shanghai, Columbus and a few other locations, and this is a perfect storm for us to help global retail clients better access the Mexican market, as well as better assist our manufacturing clients into and out of Mexico."
The company has appointed the experienced Manuel Diaz as managing director of its Mexican operations. He joins SEKO from customs broker and logistics provider Grupo Ei Consultores, where he was president for 18 years. Prior to that he was managing director Mexico for Expeditors.
Noting that SEKO Mexico was now "open for business" Mr Bourke added: "We will offer the scope and quality of services that will ensure best-in-class solutions for our clients, including airfreight and ocean logistics, ground transportation, warehousing and distribution, and customs and compliance within fully secured environments. We are ready to talk to new customers."
The first six locations are: Laredo/Nuevo Laredo, McAllen/Reynosa, Mexico City, Monterrey, Toluca and Queretaro.