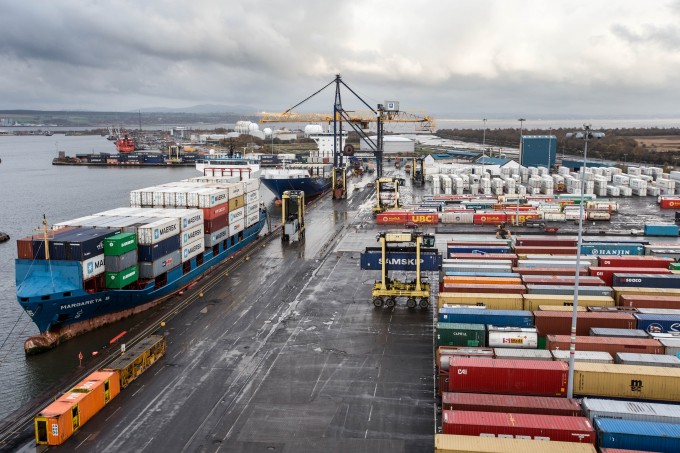 A two-week strike beginning today at Scotland's biggest container port of Grangemouth threatens to seriously disrupt the supply chain for Scottish exporters and importers – not least for its major export of whisky.
And when the strike ends on Tuesday 29 March, the Unite union will impose a ban on overtime.
Grangemouth is owned and operated by Forth Ports and handles over 150,000 containers a year, mainly transhipment cargo between Antwerp, Rotterdam and Hamburg, with coastal feeds to and from the UK's biggest container port of Felixstowe.
Grangemouth is the UK's largest feeder port and uniquely processes more exports than imports due to its gateway status for Scotland's whisky exports, which contribute £4.3bn annually to the country's economy.
The dispute, which has all the hallmarks of a potentially long and bitter dispute, centres on what the union claims is "the imposition of shift changes, affecting pay by up to £1,800 a year".
A spokesperson for Port of Grangemouth told The Loadstar: "We are disappointed that Unite has decided to take this unjustified action in response to new shift patterns designed to meet to the needs of our customers.
"While we have suspended quayside operations at the container terminal, except for vessels that are already in the port or the river, the remainder of the port remains open for business and continues to operate.
"Vessels call at the port seven days a week and we need to be able to service those vessels. Our staff and their union accepted the need for such flexibility, and that shift patterns may require to change in the future, when this element of their employment contracts was agreed in 2011."
Unite regional officer Sandy Smart said: "We are on the verge of a prolonged strike action at Scotland's biggest port because of Forth Ports' draconian approach to employment relations.
"The basics of good relations are consultation and negotiation but Forth Ports completely ignored this to impose a range of measures that will cause significant financial detriment to its employees.
"We have repeatedly approached the employer in an effort to resolve this situation and avoid a damaging dispute but we have been stonewalled at every turn. The anger of our members is clear in the overwhelming support for strikes and their demands for proper negotiations concerning the future of their livelihoods."
Both Unifeeder and BG Freight Line operate liner and ad-hoc feeder calls to Grangemouth linking it with deepsea hubs in their east coast UK feeder networks that also call at Teesport and South Shields.
In a customer advisory today, Peel Ports-owned BG Freight said it planned to offer its customers an alternative Rotterdam-Greenock feeder from next week at the King George V container terminal, Greenock, on the Scottish west coast, which is also owned by Peel Ports.
BG Freight already has calls at Greenock with its weekly Irish Sea feeder service.