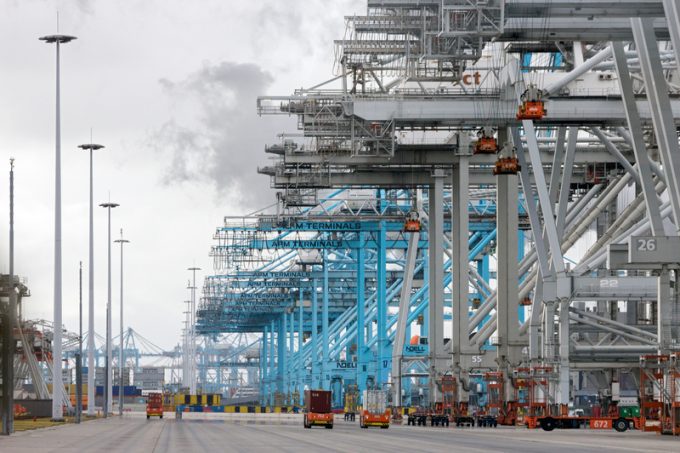 The ports of Rotterdam and Antwerp are bracing for the worst effects of Brexit: the huge cost of adjusting customs and inspection procedures and new infrastructure investment to avoid serous supply chain delays after next March.
"It is negotiate for the best, and prepare for the worst," Port of Rotterdam Authority chief executive Allard Castelein said.
His counterparts in Antwerp decided to appoint a full-time representative in London to monitor the latest Brexit developments, but Rotterdam has chosen to work in close collaboration with the Dutch government to mitigate potential delays to UK exports and any subsequent financial impact.
A recent survey by KPMG concluded that a "hard" Brexit would result in a need for hundreds of additional customs officials and veterinary inspectors, and cargo dwell times could increase substantially because of additional customs formalities.
Mr Castelein told The Loadstar the port authority had no influence on the negotiations between the EU and UK government, but Antwerp has chosen its own diplomatic path by appointing a full-time representative to the UK, who is also tasked with attracting additional sources of trade and cargo.
UK under-secretary of state Robin Walker recently visited Belgium and said: "Our trading and political ties with Belgium are deep and longstanding, and we know they will continue and strengthen as we leave the EU.
"We are well under way in our discussions with the EU on the terms of an implementation period and hope to secure an agreement swiftly."
Meanwhile, Rotterdam said 2017 had been one of its strongest trading years. Container throughput rose 10.9% to 13.7m teu, with second-half throughput growing 12.4% year on year.
It said: "Rotterdam's share of the container market is now at its highest level since 2000, at 31%. Most growth was seen for Asia and South America and traffic from North America."
It added that feeder volumes had grown strongly, 21%, while shortsea volumes saw 10.2% growth – "with a particularly sharp increase in throughput for services to and from the Mediterranean and Scandinavia and the Baltic".
However, Hapag-LLoyd today noted that congestion at Rotterdam's ECT Terminal, for shipments on feeder services, would result in a surcharge. ECT said: "We have to implement a congestion surcharge [of €35 per teu] with effect from March 1."
It added:"We will keep you informed about the duration of this surcharge and the development of the situation at ECT terminal in Rotterdam."
Meanwhile, throughput of loaded containers was up by 12.1%, outstripping the rise in empty containers, which increased 6.1%.
But Mr Castelein added that Brexit could pose a further challenge to the port's 31% market share of the Hamburg-Le Havre range traffic.
"It remains speculation, but trades between our port [and the UK] could be diverted to Calais if the UK decides to conclude an agreement with the French government."